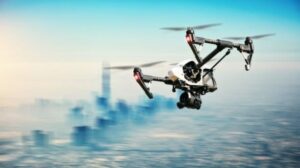 Elsight has launched a globally available Halo Value Investment Program (VIP) that is designed to allow drone companies to expand their operations BVLOS (beyond visual line of sight). The company will provide communication capabilities via its carrier agnostic, AI-powered drone connectivity platform Halo, and will help companies to achieve certification, grow and scale their commercial drone operations, and enhance their profitability.
As the market for commercial BVLOS capabilities and operations continues to grow, Elsight recognized the need to provide a program that allows companies to evolve from visual line of sight to BVLOS. In addition to the Halo platform, Elsight will also provide a SMART Start Program that will help companies strategically plan, manage implementation, align operations, obtain training, and monetize profitably.
The Halo Value Investment Program is available to UAV (unmaned aerial vehicle) and drone manufacturers, service providers, enabling technology developers, and strategic partners around the world. The program includes the following steps to ensure the success of each participant:
Smart start – A personalized, step-by-step onboarding and training process that will prepare partners for a successful proof-of-concept that utilises the Halo connectivity platform.
Expedited proof-of-concept process – Members of the program will receive the Halo devices completely ready for a quick and seamless integration into their existing or net new platforms.
Flexible, growth-based agreements and volume discounts – Halo platform purchases will be flexible to support the growth of the companies that take part in the program.
Increased BVLOS capabilities – By utilizing Halo, companies will be able to operate BVLOS with absolute connection confidence for command & control and data transmission necessities.
BVLOS regulation fast track & assistance – Elsight offers full support to get ahead of BVLOS regulatory approval with regulators around the world, including the FAA and EASA.
Fully enabled autonomy/semi-autonomy – Regardless of the operational method, Halo is agnostic to the drone model, detect-and-avoid components, flight computers and UTM systems.
Profitability enhancement – As Elsight provides connectivity as a service (CAAS), members will be able to create new net revenue streams with data usage and services from end customers, while keeping the services viable and well-priced for profitability.
Success assurance – Elsight provides members of the program with ongoing support to ensure that they can operate freely beyond the visual line of sight, grow their fleets and services, and streamline their operations.
To find out more about Elsight's Halo Value Investment program or to enquire about partnership opportunities, contact Elsight at [email protected].
Asaf Raz, Director of Marketing at Elsight, commented: "With drone laws and regulators shifting towards enabling drone operations at scale – for instance, the latest news on the Aviation Rulemaking Committee (ARC) for BVLOS flight by the FAA – the launch of the Halo Value Investment Program could not be timelier and more necessary. The program was conceived based upon several in-depth discussions with Elsight's clients, partners, and drone companies looking to evolve to BVLOS. We designed H-VIP to support the entire spectrum of drone/UAV companies – from start-ups to mature operators – to enable their acceleration into BVLOS operations."
Yoav Amitai, CEO of Elsight, stated: "For the drone/UAV industry, Elsight delivers absolute connection confidence for command & control and data transmission with our Halo solution. That being said, we (Elsight) feel we have a larger global responsibility to enable the expansion of the entire industry. Companies that sign up for Halo VIP have an incredible opportunity to leverage our strong experience in the market, comprehensive training and support, and flexible funding to accelerate the achievement of their business goals."