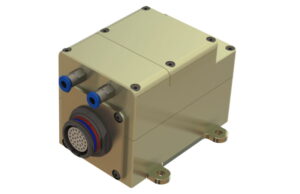 uAvionix has expanded its line-up of certifiable avionics for unmanned aerial systems (UAS) with the George autopilot, a low-SWaP (size, weight and power) product weighing just 80 grams. Designed for enterprise operations and UAS type certification, George is made in the U.S.A. and based around the Cube platform from CubePilot. It features Design Assurance Level (DAL) C hardware and safety and sensor monitoring, enabling designers to meet the Type Certification and safety case requirements for Beyond Visual Line of Sight (BVLOS) operations.
George features a triple-redundant IMU (inertial measurement unit) that incorporates 3 accelerometers, 3 gyroscopes, 3 magnetometers, and 3 barometers, one of which has been TSO certified under TSO-C88b in other uAvionix products such as skyBeacon, tailBeacon, and ping200X. The hardware platform meets rigorous DO-160G and MIL-810H power and environmental qualifications.
George is plug-and-play compatible with all of uAvionix's certified and uncertified products, including truFYX GPS (TSO-C145e), ping200X (TSO-C112e, TSO-C166b, TSO-C88b), RT-2087/ZPX-B (AIMS MkIIB), as well as pingRX Pro dual-band ADS-B receiver for Detect and Avoid (DAA) and the microLink or SkyLink C Band Command and Control (C2) solutions.
Paul Beard, CEO of uAvionix, commented: "The flight control capabilities of the Cube are superb, backed by hundreds of thousands of man-hours of engineering and experimentation over the past 10 years. But what has been lacking is a hardware platform that matches that capability in robust performance. George brings everything we've learned about certified avionics to the autopilot space in a way that outperforms existing enterprise and military autopilots in a lower SWaP package."