SkyHopper, a leading provider of end-to-end cybersecurity and smart solutions for drones, robotics and autonomous platforms, is demonstrating their expertise in this field with a new profile on UnmannedSystemsTechnology.com. The profile highlights how their scalable cybersecurity solutions enable highly secure fleet and swarm operations for autonomous UAVs (unmanned aerial vehicles), UGVs (unmanned ground vehicles) and other robotic platforms.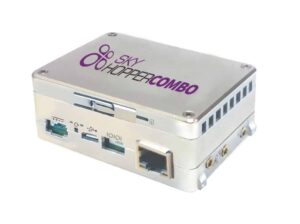 The SkyHopperCOMBO is a multifunctional broadband wireless data link that can use existing LTE-based infrastructure or its own built-in SDR capabilities, and incorporates an advanced ICE Cybersecurity suite. Designed for commercial, industrial and public safety drones as well as other robotic platforms, it ensures mission continuity even in challenging urban and NLOS environments.
The COMBO solution also includes CONTROLiT, an intuitive cloud-based software package that enables easy device configuration, network management, tracking and access to operational logs and statistics.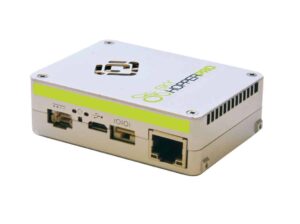 SkyHopper PRO provides a bi-directional data link for commercial and industrial drones in both LOS and NLOS environments, enabling fleet management, autonomous operations, and transmission of real-time full HD video.
The highly secure SkyHopper PRO supports both Point-to-Point and Point-to-Multipoint communication, enabling applications such as multi-drone operations and drone camera broadcasting to multiple receivers.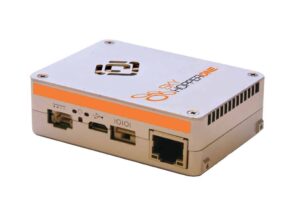 SkyHopper ONE is a wireless communication unit specially designed for drones and robotics, providing both broadcast and unicast transmission modes for robust data links even in NLOS environments.
The compact and lightweight point-to-point solution is highly secure and can deliver real-time full HD video.
The SkyHopper Pro V combines a bi-directional drone data link with powerful video processing capabilities, and includes dual video inputs and outputs, dual built-in video encoder/decoders, three camera interfaces, and local recording ability onto microSD card.
The secure point-to-point communication system supports long-range LOS applications as well as NLOS operation in urban and cluttered environments.
Users of SkyHopper solutions can also benefit from the Mobilicom ICE (Immunity, Cybersecurity and Encryption) Cybersecurity suite, designed to protect all mobile units and data during critical tactical missions. ICE Cybersecurity prevents, detects and responds to existing threats and is available in different tiers to suit varying needs.
To find out more about SkyHopper and their cybersecurity solutions for highly secure UAV and robotics fleet and swarm operations, please visit their profile page:
https://www.unmannedsystemstechnology.com/company/mobilicom/