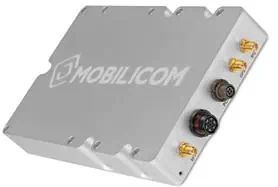 Provider of cybersecurity and robust solutions for drones and robotics, Mobilicom Ltd., has introduced its latest product, the MCU-70.
This cutting-edge addition to Mobilicom's MCU Series offers unrivaled cybersecure, wireless communications performance for small and mid-sized long-range unmanned aerial vehicles (UAVs) in both commercial and military applications.
Unlocking New Capabilities for Small and Mid-Size Drones
The MCU-70 is a revolutionary MESH Networking Cybersecure Software Defined Radio (SDR) that combines compact design with high-performance capabilities. Designed to deliver superior communication in the most demanding environments, the MCU-70 empowers drones to overcome the challenges of long-range missions with enhanced stability, resilience, and durability.
Key Features and Benefits
Extended Communications Range: The MCU-70 enables drones to communicate over distances of up to 100 miles/150km, expanding their operational capabilities.
Unparalleled Link Performance: Enhanced mobile mesh device-to-device and wireless mobile IP communications, ensure high-quality video and data transmission.
Advanced Cybersecurity: Equipped with ICE Cybersecurity software, the MCU-70 provides essential protection against cyberattacks, safeguarding drone operations.
Durability in Rugged Environments: Designed to withstand harsh outdoor conditions, the MCU-70 ensures reliable performance in challenging environments.
Comprehensive Protection Strategy: Equipped with the ICE Cybersecurity Suite as its base level of protection, the security measures can be further enhanced by integrating Mobilicom's networked hardware and software systems, offering a comprehensive and holistic protection strategy.
NDAA Compliant: The MCU-70 meets the U.S. National Defense Authorization Act (NDAA) compliance requirements, ensuring adherence to industry standards.
With the introduction of the MCU-70, Mobilicom significantly expands its market reach to cater to small and mid-sized drone manufacturers. According to the company, this latest addition solidifies its position as a one-stop shop for end-to-end solutions in military and commercial drone applications, offering unparalleled performance and security.
"MCU-70 opens up new opportunities for Mobilicom, delivering an even stronger value proposition to our Tier-1 manufacturing customers. As the industry evolves, the demand for long-range drones is set to grow, and we are well positioned to provide critical systems that drive high-performance drones for both commercial and military applications," said Oren Elkayam, CEO of Mobilicom.