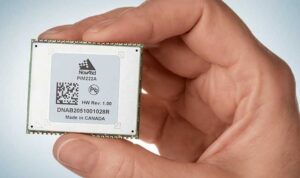 Hexagon | NovAtel has introduced the PIM222A, a new automotive GNSS positioning module for advanced driver assistance systems (ADAS) and autonomous vehicles. Built on NovAtel's decades of experience with precise positioning technology, the new module uses SPAN technology to provide accurate position data even in urban environments that challenge GNSS availability.
The PIM222A uses deeply coupled GNSS receivers and inertial measurement units (IMUs) to provide continuous position, velocity and attitude data even during brief GNSS outages. The multi-frequency, multi-constellation module features RTK capability, as well as dual antennas which maximise slow-speed and initialization performance.
The lightweight, power-efficient, solder-down module provides maximum flexibility for integration, and is ideal for low-, medium- and high-production volumes. Development kits for the PIM222A are available now for designers and systems integrators.
Gordon Heidinger, Segment Manager for Automotive and Safety Critical Systems, commented: "I'm excited to introduce the PIM222A, truly the best of both worlds for high-performance GNSS and automotive standards. It really helps our customers jump-start their development activity for high-precision GNSS, and it fully supports performance for all levels of autonomy, ADAS and positioning needs."