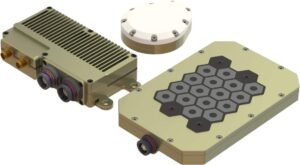 uAvionix has signed an agreement to support unmanned traffic management (UTM) trials in Alberta, Canada that are being led by UTM specialist AirMarket and are focused on the energy sector. The Energy UTM Trials (EUT) are designed to test AirMarket's cellular-enabled UTM system architecture and BVLOS (beyond visual line of sight) drone operations within a commercial context.
The trials are being performed in conjunction with both Transport Canada and NAV Canada, and will provide data to inform the regulatory development process and national plan for UTM & BVLOS. The trials are being conducted in a real-world environment over an active pipeline corridor.
uAvionix will provide its SkyLine Command & Control (C2) architecture, Traffic Information Services-Broadcast (TIS-B) and Flight Information Services-Broadcast (FIS-B) products to be integrated into the AirMarket UTM architecture. These products will bridge the gap between traditional and unmanned aircraft by increasing situational awareness and ensuring a certifiable solution aimed at meeting the challenging regulatory demands on this type of BVLOS operation. uAvionix' contributions will also provide valuable insights as to how Automatic Dependent Surveillance-Broadcast (ADS-B) technology can contribute to the safety net and integration with manned aviation.
Lindsay Mohr, CEO of AirMarket, commented: "Our emphasis is on real-world application for UTM services. We are partnered with the telecommunications & energy sectors and working closely with regulators to build the business."
Cyriel Kronenburg, VP of International Development at uAvionix, said: "We think that ADS-B and the SkyLine certifiable C2 solution has a major role to play in UTM. These trials provide an excellent opportunity to demonstrate to the industry and to Canadian regulators how managed infrastructure applications can enhance the safety case for BVLOS operations for both C2 and Detect and Avoid applications."