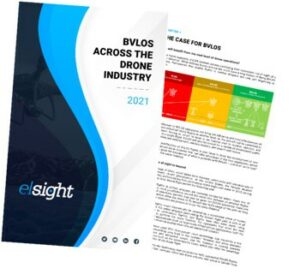 Elsight has released a new ebook designed to inform companies looking to scale their drone operations from limited line-of-sight (LOS) applications to beyond visual line of sight (BVLOS). BVLOS operations will allow drone operators to cover more ground in a single flight, enhancing the efficiency and cost-effectiveness of these operations and unlocking new market potential.
Download the ebook from Elsight's website here
The ebook covers:
The advantages of BVLOS drone operations
An overview of going from LOS to BVLOS
Four verticals that can benefit from BVLOS capabilities – inspection, precision agriculture, delivery and mapping & surveying
Safety concerns and regulatory issues
How Elsight's Halo platform provides an innovative solution to connectivity issues that often plague long-range drone operations
Elsight's Halo connectivity solution combines multiple communications links into one seamless pipeline, automatically selecting the most suitable available connections. With high bandwidth and automatic failover protection, Halo is ideal for enabling BVLOS drone operations. To find out more, download the ebook from Elsight's website.