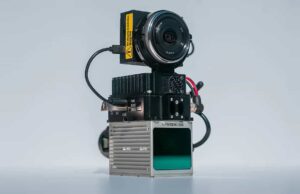 Inertial Labs has confirmed that its INS-D-OEM inertial navigation system (INS) has been incorporated into ROCK Robotic's latest drone LiDAR payload, the ROCK R2A. Built around the Livox Avia LiDAR scanner, the new payload is light enough to fly on the DJI Matrice 200 and 210 Series (versions 1 and 2), Matrice 300 RTK, the Matrice 600 Pro, the Freefly Alta X and other UAV platforms.
The Inertial Labs INS-D-OEM inertial navigation system features temperature calibrated and precisely aligned tri-axis MEMS accelerometers and gyroscopes, and ensures accurate time synchronization amongst independent data packets to result in a guaranteed high-performing system-level solution. The high-quality components are paired with a robust onboard Kalman filter, resulting in trajectories with heading accuracies of 0.03 degrees and pitch & roll accuracy of 0.006 degrees. These values directly affect point cloud accuracy, which is why the team at Rock Robotic chose the INS-D-OEM to be the solution for the R2A and can confidently specify a system accuracy of 5 centimeters or less.
The development of drone LiDAR payloads has had a substantial effect on industrial inspection applications such as powerline inspection. Powerline inspection with ground inspection teams is a labour-intensive, time consuming, and potentially dangerous process, and payloads such as the R2A can transform the process into an accurate, cost-effective, and time-efficient alternative to in-person ground-based surveillance. The multiple return method of scanning with the Livox Avia and excellent position and orientation accuracy from the INS-D-OEM ensure that the R2A provides a highly dense and accurate point cloud for powerline classification.
Harrison Knoll, CEO and Co-Founder of ROCK Robotic, commented: "The Inertial Labs team has a deep understanding of the whole navigation technology ecosystem; this has made their products offer world class performance and maintain easy integration and interoperability with GNSS receivers and onboard computer systems. Now when I think about best-in-class accuracy, I think Inertial Labs."
Jamie Marraccini, Inertial Labs CEO and Founder, said: "It really has been a great marriage of skillsets. With ROCK Robotic's vast knowledge of the drone-based surveying market and industry and our experience in the inertial navigation field, customers can trust that ROCK LiDAR payloads have been designed by a collective team of professional and experienced engineers with the customer's best interest in mind."