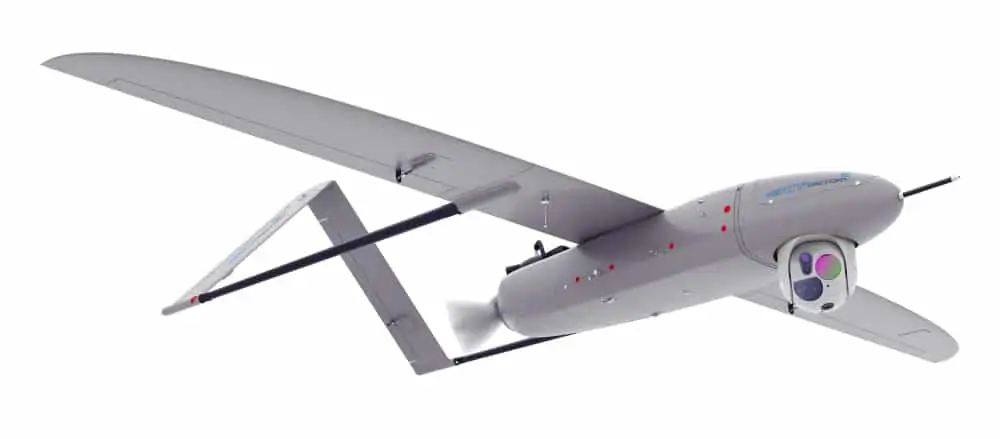 Edge Autonomy has launched an upgraded version of its Penguin C small tactical UAS (unmanned aerial system). The Mk 2 model has successfully completed its validation flight program and deliveries to customers are currently underway.
The Penguin C Mk2 is available in Group 2 or Group 3 UAS configuration, and improves on the previous model in payload capacity, endurance and other capabilities. It has been optimized to carry payloads up to 8 inches in diameter and with a total weight of 4 kg, and features a unique swappable nose concept that allows field replacement of payloads within seconds. The payload bay also features an integrated motor that adds additional roll stabilization and protects the payload during recovery. The aircraft is compatible with the entire range of Edge Autonomy's advanced Epsilon gimbal-stabilized payloads, and users can easily integrate their own custom sensors.
The new UAS can be operated in GPS-denied environments, and uses advanced Silvus Technologies 2×2 MIMO datalinks with a radio link range of over 120 kilometers, with advanced features such as mesh networking, beamforming, encryption, integrated spectrum analyzer and interference avoidance. A datalink interference cancellation functionality is available for US customers.
The Penguin C Mk2 has undergone a major propulsion system upgrade, with a high-reliability 28cc EFI (electronic fuel injection) engine that is complemented by a new fuel pump system. The engine can now operate continuously at ambient temperatures of over 55° C.
The video below demonstrates the swappable payload system of the Penguin C Mk 2 UAS: