RIEGL has developed two new airborne LiDAR scanners developed specifically for use on UAVs (unmanned aerial vehicles). The new products will be presented at the company's exhibition booth at the INTERGEO 2020 virtual trade show.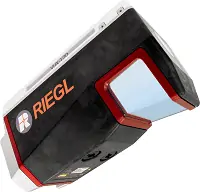 The RIEGL VUX-120, weighing just 2kg (4.4 lbs) and measuring 225 x 120 x 125 mm, features a PRR (Pulse Repetition Rate) of up to 1.8 MHz, delivering up to 400 scan lines and 1.5 million effective measurements per second on the ground. With a multi-target capability of up to 15 targets per pulse, the scanner penetrates even dense vegetation.
The system provides options for integrating IMU/GNSS systems and one of a variety of cameras, making it ideal for fixed-wing UAV corridor mapping. It uses an innovative NFB (Nadir/Forward/Backward) scanning pattern for optimal detection of even vertical targets such as high-voltage pylons, house facades or steep mountain slopes. The 100° wide field of view is scanned in alternating planes (strictly vertical down, +10° forward oblique, -10° backward oblique). This wide field of view enables users to fly parallel to the asset as opposed to directly over the target, significantly increasing safety for applications such as mapping of power line networks.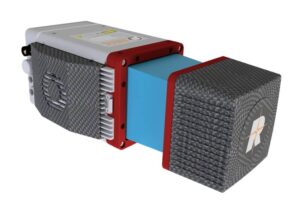 The miniVUX-3UAV is an extension of the proven miniVUX series, with a 300 kHz PRR that allows up to 300,000 measurements/second at a field of view of 120° and thus a denser point cloud, which enables survey drones to reliably detect even the smallest objects.
Like its sister models miniVUX-1UAV and -2UAV, the miniVUX-3UAV can be combined with various IMU/GNSS systems and camera options to optimally match the requirements of particular applications. It can also be used with RIEGL's Integration Kit 600, a hardware extension that provides easy integration with multirotor drones.