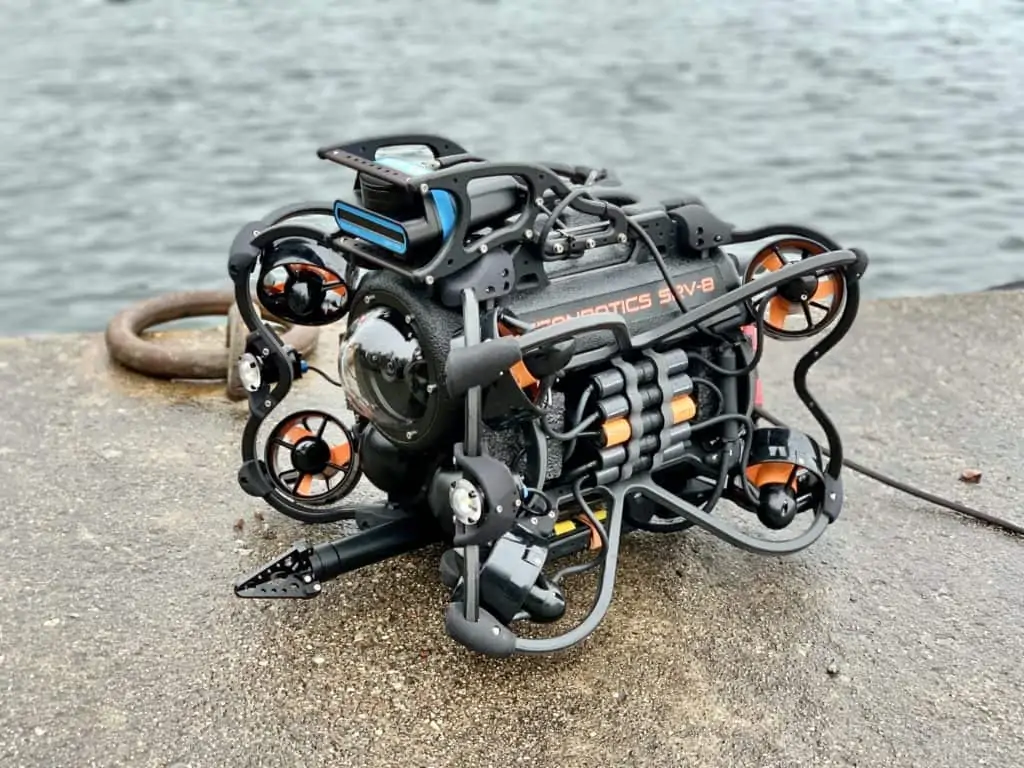 RJE Oceanbotics' SRV-8 ROV (remotely operated vehicle) has been selected by Norwegian geomatics firm Veseth AS Survey & Inspection to aid the company in its sea surveying, construction and civil engineering projects. The company uses ROVs as well as drone, laser scanning and multibeam sonar technology to create seamless 3D models of land and sea environments with millimeter precision.
The SRV-8 ROV is equipped with eight thrusters for high-precision control and advanced maneuverability, and can operate at depths down to 305 metres. Veseth AS uses the vehicle for a variety of projects, including inspection work on quays and pipe terraces, and environmental projects in harbour pools that require the removal of polluted wood pulp and laying down of new pulp, where layer thickness measurements taken by the ROV are used as a supplement to multibeam data.
Veseth AS selected the SRV-8 ROV due to its maneuverability, powerful thrusters, high-quality imaging capabilities and multifunctional software with integrated position and sonar imagery. The vehicle is also highly portable and can be powered entirely by battery for shorter tasks, meaning no external power source is required.
Camilla Hermansen, geologist at Veseth AS, commented: "We place high demands on the quality of what we deliver to our customers, which is why it is important for us to have the best equipment available on the market."
"The ROV is easy to drive and has many advanced features that other ROVs of the same size do not have. It can be operated in any direction and the camera has high resolution. The software is very functional; one can set waypoints on objects found on the seabed and take measurements of them. When recording video, a lot of information is displayed that you would otherwise have to use several different software to see."