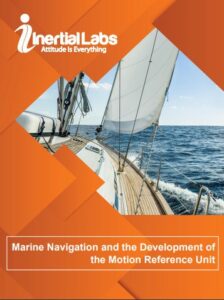 Inertial Labs has released an article that outlines the history of marine navigation and the development of modern motion reference units, which take in data from a variety of sensors to produce a robust navigation and orientation solution for marine platforms such as unmanned and autonomous surface vessels (USVs/ASVs).
Read the full article on Inertial Labs' website
The article begins by outlining the main methods of navigation used throughout history, include the stars, magnetic and gyroscopic compasses, chronometers, radio, radar and GPS.
The article then explains how there are many sources of information on board marine vessels, such as GNSS receivers, compasses, radar and sonar, and speed and distance logs, that could be fed into a sensor solution in order to improve positioning and orientation.
Inertial Labs' Motion Reference Unit (MRU) product line accepts aiding data from a multitude of different sensors, using sophisticated Kalman filtering to produce high-accuracy position, velocity and orientation outputs. Users can control the validity of different sources of aiding data or use the standard recommendations for configuring settings.
To find out more about motion reference units for marine navigation and positioning, read the full article on Inertial Labs' website.