Silicon Sensing, a leading developer of reliable high-precision MEMS gyroscopes, accelerometers, IMUs and inertial sensing systems, has partnered with Unmanned Systems Technology ("UST") to demonstrate their expertise in this field. The 'Gold' profile highlights how their inertial sensors can be used for a wide range of applications in unmanned systems markets, from UAVs (unmanned aerial vehicles) and drones to driverless cars, autonomous land vehicles, and unmanned surface and underwater vehicles.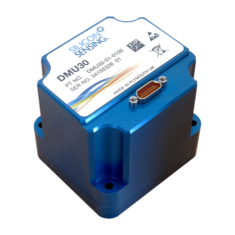 The DMU30 is a high-performance ITAR-free three-axis inertial measurement unit designed for use in a variety of demanding motion tracking applications, including AUV and unmanned vehicle navigation, precision mapping and surveying, and more. The unit delivers outputs in RS422 format, and is available in two variants providing different baud rates to suit particular application requirements. An evaluation kit for the DMU30 is available to allow designers and system integrators to easily view and log sensor output data for rapid testing and development.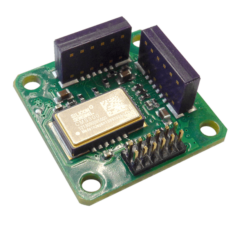 The DMU11 combines high-precision MEMS inertial angular rate and linear acceleration sensors to provide a six degree of freedom, full 3D motion sensing and tracking solution. Designed for low-cost, high-volume production applications, the DMU11 features a layout specially designed to minimise physical footprint, making it ideal for space-constrained drones and robotics.
The sensor has been fully calibrated over its entire operational temperature range. An evaluation kit for the DMU11 is available to allow designers and system integrators to easily view and log sensor output data for rapid testing and development.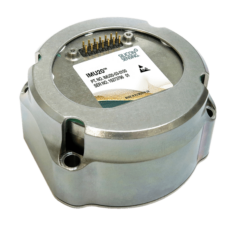 The IMU20 is an aerospace- and space-grade IMU specifically designed to meet the high demand for a mid-range, non-ITAR commercial and industrial inertial measurement solution. Highly rugged and engineered to withstand challenging high-impact and vibration environments, it is ideal for unmanned aerial vehicles, satellite launch platforms and more. The three-axis sensor integrates state-of-the-art MEMS inertial sensors calibrated with Silicon Sensing's sophisticated in-house test facility.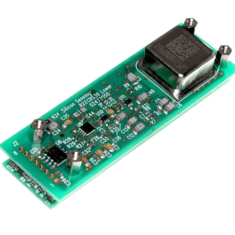 The CRS39 MEMS gyroscope is a high-performance sensor designed for applications where low noise and excellent bias instability and angle random walk are of the utmost importance. It features three onboard temperature sensors that allow it to compensate and provide optimal performance even in environments where temperatures are highly unstable.
Designed for mounting within a 25mm inside diameter cylinder, the CRS39 combines Silicon Sensing's state-of-the-art VSG3QMAX vibrating ring MEMS sensor with high-precision discrete electronics to achieve high stability and low noise, making it an excellent alternative to FOGs and dynamically tuned gyros (DTG).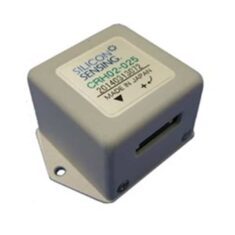 The CRH02 is a compact single-axis high-performance gyroscope offering near-FOG performance with low noise and excellent stability. It is available in four variants with different dynamic ranges to suit a variety of application requirements.
The CRH02-100 and 200 variants are also available as unpackaged boards for OEMs and systems integrators. Three choices of resonant frequency allow designers building their own IMU from multiple units to integrate three gyros with different frequencies for optimal system performance.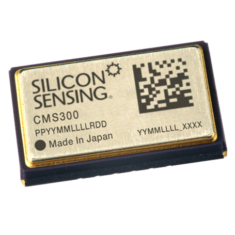 The CMS combi-sensor combines a single axis gyro and dual-axis low-g accelerometer with a dedicated control ASIC to provide robust angular rate and linear acceleration measurement in a small hermetically-sealed surface-mounted package. The sensor features a digital SPI output and independent user-selectable dynamic range and bandwidth on each axis. The CMS is available in two variants that provide different measurement orientation formats for in-plane and out-of-plane measurements.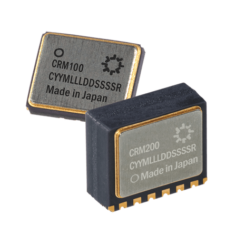 The PinPoint series features Silicon Sensing's smallest MEMS gyros, with excellent bias performance and noise over temperature, and user-selectable dynamic ranges and bandwidth with analogue and digital outputs. The miniature single-axis gyros are available in both flat and orthogonal configurations, and are ideal for precision drone and unmanned vehicle navigation, attitude sensing, antenna platform pointing and more.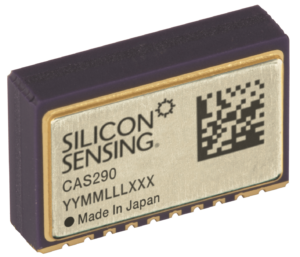 The Gemini series of integrated MEMS accelerometers are dual-axis MEMS linear acceleration sensing devices featuring a dedicated control ASIC and analogue and digital SPI output interfaces. The units are supplied in surface-mountable standard LCC ceramic packages, hermetically sealed for full environmental protection.
Gemini accelerometers are available with in-plane or orthogonal sensing, each with five different dynamic range variants. Evaluation boards are available to allow designers and system integrators to easily assess sensor output for rapid testing and development.
To find out more about Silicon Sensing and their MEMS inertial sensor solutions for unmanned systems, please visit their profile page:
https://www.unmannedsystemstechnology.com/company/silicon-sensing/