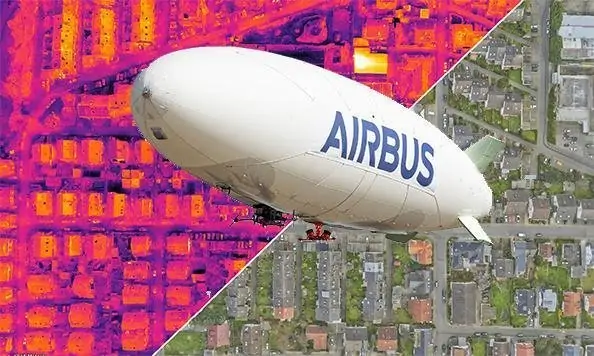 Phase One Industrial has released a case study outlining how the company's iXM-100 camera has been used by Airbus Defence and Space in the ALTAIR unmanned autonomous airship to generate high-definition thermal 3D models using a combination of infrared (IR) and RGB data captured simultaneously.
Read the full case study on Phase One's website here
ALTAIR is the first autonomous unmanned airship with authorization to fly BVLOS (beyond visual line of sight) in cities and over crowds, and can thus be used to collect high-resolution and ultra-precise optical data for the creation of 3D city models. The models can be used for smart decision making and realistic urban simulations to pave the way for future cities.
Airbus, in conjunction with 3D inspection technology startup vaireco and MVV Energie AG, launched a project to acquire high-definition 3D IR data on a city-wide scale. The unmanned airship's large payload capacity allows it to carry more than one sensor system for 3D mapping, and was equipped with two Phase One iXM-100 MP cameras and three FLIR TAU 2 thermal sensors.
The Phase One iXM-100 cameras, designed specifically for UAV (unmanned aerial vehicle) imaging and equipped with 35mm lenses, provided the baseline for a high definition 3D meshed model. Since IR and RGB data was captured simultaneously, the optical 3D mesh was used as a reference for the IR data and both models matched, with the IR data represented at the correct geolocation.
This improved accuracy and aerial performance opens up new applications for UAV aerial imaging, such as planning of citywide energy-saving targets, and inspection of large-scale solar plants. To find out more, read the full case study on Phase One's website.