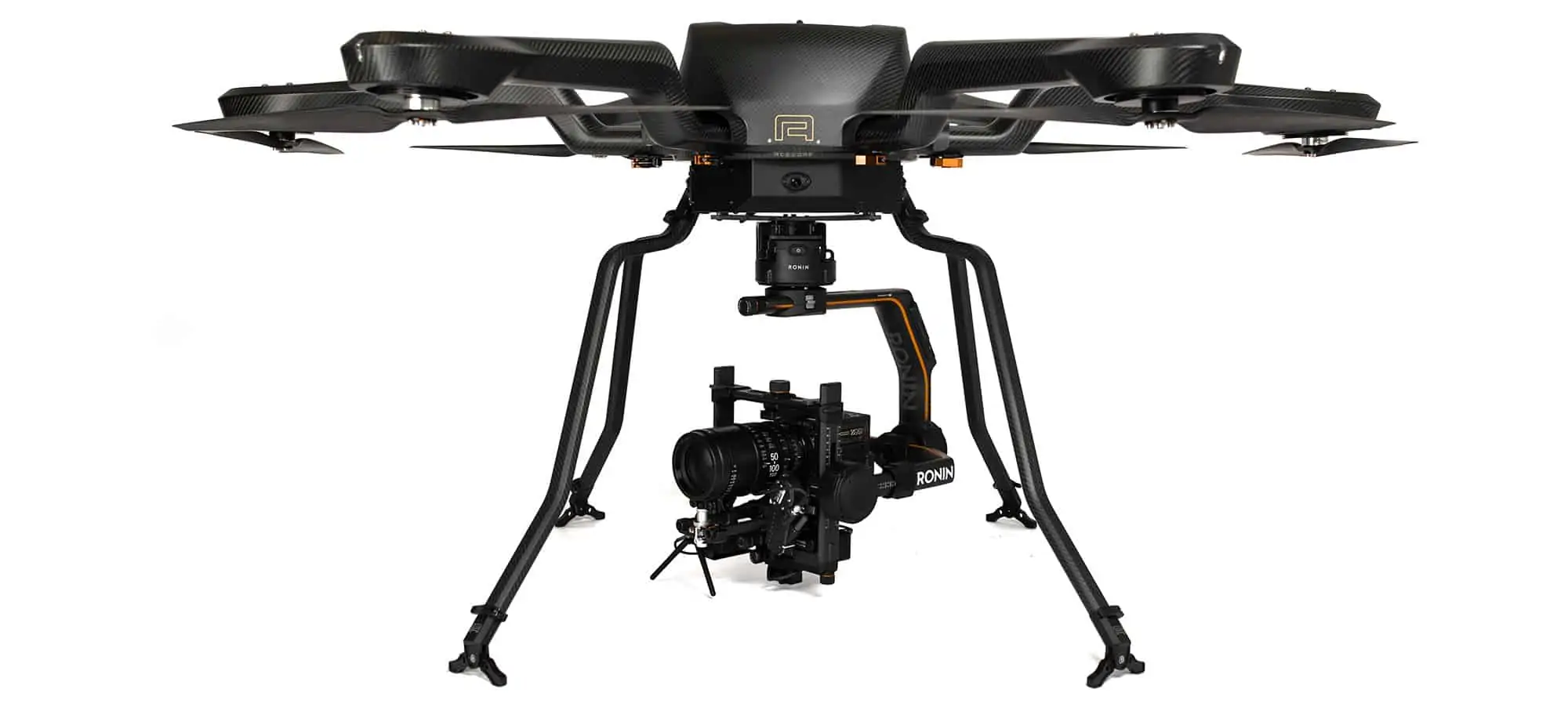 Acecore Technologies has released their latest multirotor drone platform, designed for professional, commercial and industrial applications. The Acecore Noa combines heavy lifting capabilities with flight endurance, to lift up to 20kg payloads and fly for up to 60 minutes.
Six enlarged rotors and large 28″ reinforced carbon fiber props allow the Noa hexacopter to fly in harsh environments. The motors are mounted upside-down onto the carbon fiber monocoque frame, allowing users to operate the drone in 9mm/h downfall.
Active air cooling is created with hollow arms, which generate a cool airflow through the system. This ensures the platform can be used in outside temperatures up to 50 degrees Celsius.
A shark-fin battery latch allows the four battery packs, ranging from 11A-23A, to be inserted and locked in place. Each of the six booms mount to Noa's centerpiece using double action quick release locks, and screw-on propeller adapters result in a completely tool-less set-up of the system.
The extended flight endurance will allow land surveying, 2D & 3D LiDAR mapping, wind turbine/ powerline inspections, and a wide array of other professions to effectively conduct operations.
Noa's carbon fiber retractable landing gear offers a 360-degree unobstructed view, ideal for applications such as cinematography and security.
This new hexacopter drone provides a level of redundancy expected from a high-end platform. A spare engine ensures the Acecore Noa can safely land in the rare event of an engine or ESC failure, allowing the user to recover valuable payloads and preventing material or physical damage to people and objects on the ground.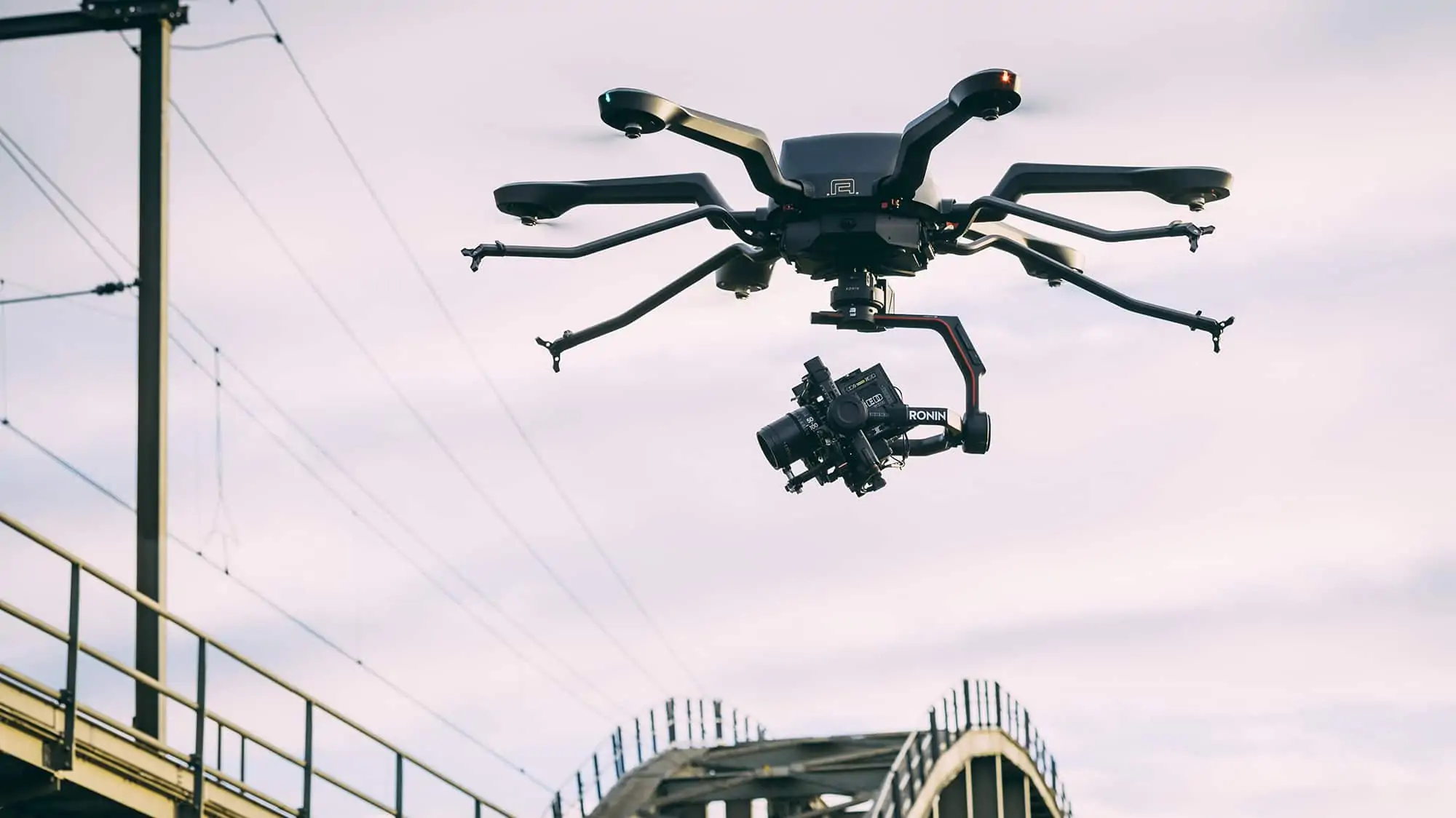 Payload options
The pixhawk-based Acecore Noa hexacopter has a maximum payload capacity of 20 kilograms but can be operated at much lower weights. For example, a 3kg/ 6.6lbs payload, such as the Sony A7R iv and Gremsy T3 V3 gimbal, can be flown for over 40 minutes.
Users can seamlessly swap payloads using Acecore's modular quick release system. Stabilized by the internal octople wire damping, the standard Gremsy quick release offers the flexibility that professionals often need. Using optional adapters, almost any third-party payload can be fitted.
The 12kg/ 26.2lbs DJI Ronin 2 gimbal, equipped with RED Weapon 6K and Sigma 50-100 T2 cine lens, can be mounted to Noa for a Hollywood-tier cinematic set-up. Noa's heavy-lifting capabilities will allow for flight times in excess of 25 minutes in this configuration.
<25kg MTOW
The Noa can be operated under the 25kg/ 55lbs Maximum Take-off Weight (MTOW) limit that many CAA authorities exercise. This version of the drone comes with its own specification sheet that specifies the MTOW of 24.95kg as opposed to the 36.9kg MTOW of the standard version. Staying under this limit, users can still operate payloads up to 8kg/ 17.6lbs with the improved redundancy and reliability of a hexacopter.
Although the motor configuration is completely new, Noa fits right into the Acecore ecosystem. This means it is compatible and can be used with virtually all controller options and payloads that Zoe and Neo work with.
Pricing & availability
The new Acecore Noa is available for order from Acecore directly or any authorized reseller effective immediately. First units will start shipping the first week of July 2020.
Please inquire with Acecore directly to receive pricing details and the full list of configurable options.