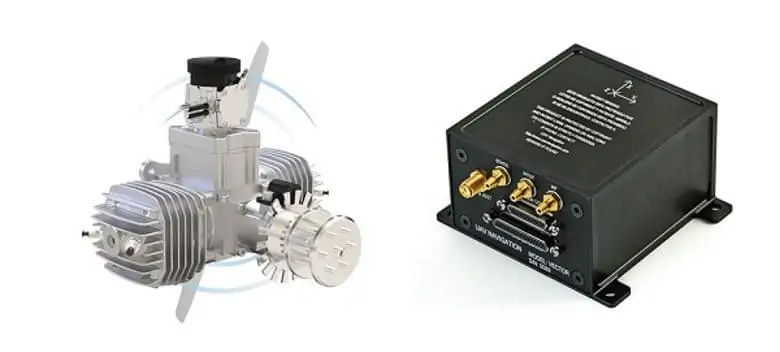 Sky Power and UAV Navigation have formed a partnership to design new flight control solutions for UAVs (unmanned aerial vehicles), integrating Sky Power's 2-stroke and Wankel rotary engines with UAV Navigation's autopilots. The result is a convenient, seamless combination of these two technologies that can be integrated into one UAS platform.
The first development stage was to ensure robust communication between Sky Power's ECU030 and ECU080 Engine Control Units and UAV Navigation's VECTOR autopilot, so that critical parameters and information could be delivered via CAN bus. The ECU030 is a complete engine management system for 2-stroke engines, while the ECU080 has been specially developed for Wankel engine applications.
Sky Power's universally applicable electronic fuel injection systems can be used for both petrol blends and heavy fuel (HF) applications. The ECU controller adapts the fuel blend to the actual air pressure and external temperature, which helps to reduce fuel consumption. Four ignition channels with two separate adjustable spark plugs ignite the fuel blend. The fuel pump pressure is electronically regulated, and the system also features an automatic choke function.
UAV Navigation's Visionair ground control station software monitors the state of the propulsion system in real-time, adjusting settings on the fly to provide the best possible engine performance. Operators can also use Visionair to configure the peripherals installed in the VECTOR autopilot, as well as plan and execute demanding UAV missions, including advanced maneuvers such as automatic sea skimming or autorotation. The system displays all relevant real-time information from the control system, motors and payloads.
The integration of the two companies' technologies allows users to easily configure a Sky Power UAS engine and allow the autopilot to manage it. This seamless arrangement ensures optimum energy control, maximizes range, and reduces acoustic footprint, which is a crucial factor for ISTAR (intelligence, surveillance, target acquisition, and reconnaissance) missions in which flight endurance much be maximised without being detected.