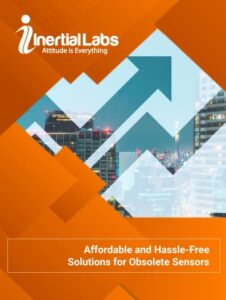 Inertial Labs, a developer of advanced inertial sensing technologies, has released a white paper detailing how they can help companies with hassle-free solutions for replacing obsolete sensors, such as older MEMS-based accelerometers and gyroscopes for UAVs (unmanned aerial vehicles) and unmanned systems. These sensors may have been discontinued due to the advent of newer, more powerful and efficient products.
Download the full white paper here
Replacing obsolete sensors is not as easy as purchasing a new sensor and plugging it into the existing hardware, and companies seeking replacement solutions must consider various costly and time consuming factors, such as:
Making custom modifications to hardware interfaces
Rewriting software and firmware to work with older data protocols
Developing new mounting brackets to house new components
Accounting for the effects of different data and communications rates on system performance
Seeking to reduce R&D and programming times for customers using their products as replacement solutions for discontinued sensors, Inertial Labs can help solve these problems in several ways, including:
Creating fully customized housings for end-users
Modifying firmware to communicate with existing systems
Configuring units to output custom data packets
Configuring units to work with customer interfaces
To find out more about how Inertial Labs can help solve problems associated with replacing obsolete sensors in UAVs, drones and robotics, download the full white paper here.