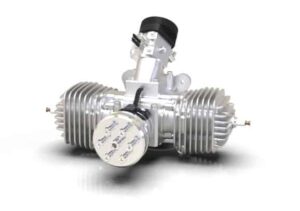 Sky Power, a manufacturer of internal combustion engines for UAS (unmanned aerial systems), has announced the launch of the SP-56 series of twin-cylinder engines. The new family of UAS propulsion systems is Sky Power's smallest two-cylinder development yet, and is built on the same modular concept as all of the company's other systems.
The SP-56 series fills the gap between Sky Power's small SP-28 or SP-55 single-cylinder engine series and and the SP-110 series of larger twin-cylinder engines. It provides 3.35 KW of power at 7000 rpm, with the carburetor version weighing only 2.6 kg. It can be equipped with a generator or starter-generator on the rear output shaft, which allows hybrid solutions in which the engines only generate electricity.
The SP-56 series is based on the updated single-cylinder engines from Sky Power's SP-28 family. As a result, the SP-56 series has the same improved cylinder design as the SP-28 series, which gives the engine better thermal stability. Like all other Sky Power engines, the SP-56 series engines are available in different versions and in the near future fuel injection system and heavy fuel versions are planned.
Karsten Schudt, Managing Partner of Sky Power GmbH, commented: "It became increasingly clear that we lacked a solution for our customers in the field of small two-cylinder engines. That is why we decided to develop this engine family in 2019. This type of engine was particularly lacking for integration into small helicopters, as single-cylinder engines often do not run smooth enough for these applications, and the SP-110 series is already too big for many of these aircraft."