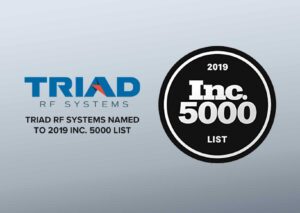 Inc. magazine revealed that Triad RF Systems has made the 2019 Inc. 5000 list, the most prestigious ranking of the nation's fastest-growing private companies in the United States. This is the 2nd year in a row that Triad RF has earned a spot on this list.
"We are very proud to have been named one of the 2019 Inc. 5000 Fastest growing companies," said Dean Co-Founder/Partner at Triad RF Systems." "This award is a testament to our ability to deliver the mission critical advanced, highly linear, and efficient RF amplification solutions that our customers in the Aerospace / Defense, Telecommunications, and Science communities need."
"The companies on this year's Inc. 5000 have followed so many different paths to success," says Inc. editor in chief James Ledbetter. "There's no single course you can follow or investment you can take that will guarantee this kind of spectacular growth. But what they have in common is persistence and seizing opportunities."
The annual Inc. 5000 event honoring the companies on the list will be held October 10 to 12, 2019, at the JW Marriott Desert Ridge Resort and Spa in Phoenix, Arizona. As always, speakers include some of the greatest innovators and business leaders of our generation.