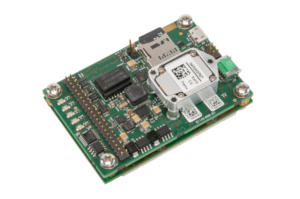 Septentrio, a developer of high-accuracy positioning technology, has announced the addition of a new product to their GNSS/INS portfolio. The AsteRx-i S UAS provides industrial-grade inertial sensing and GNSS technology for unmanned aerial vehicles (UAVs), drones and other robotic systems.
The credit card-sized AsteRx-i S UAS joins the company's existing unmanned systems-targeted products, the AsteRx m2 and m2a UAS. Optimized for SWaP (Size, Weight and Power)-conscious applications, it improves drone battery life leading to long flight times and increased productivity. The receiver is easily integrated into a wide variety of UAS and is compatible with popular autopilots such as Pixhawk and ArduPilot.
The new unit combines a GNSS receiver with a high-quality IMU into a single package, providing centimeter-level positioning and multi-frequency, multi-constellation compatibility (GPS, GLONASS, Galileo, BeiDou, QZSS). State-of-the-art sensor fusion algorithms provide continuous positioning during short GNSS outages, such as in environments with tall structures, under bridges or during rapid banking turns.
AsteRx-i S UAS provides built-in Advanced Interference Mitigation (AIM+) technology, which helps protect against the effects of electromagnetic radiation emission from nearby devices that may interfere with GPS and GNSS signals. AIM+ leads to faster set-up times and robust continuous operation. A built-in power spectrum plot allows users to analyze interference, locate the source and plan for mitigation.
"Quick receiver integration makes the lives of our customers easier. It also speeds up their system's time-to-market," said Danilo Sabbatini, Product Manager at Septentrio. "Our goal was to combine a high-performance product with a simple and flexible plug-and-play integration design, suitable for any aerial system."
Find suppliers and manufacturers of inertial navigation systems (INS) >>