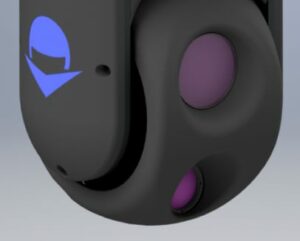 Embention has announced the development of a new version of its Veronte Gimbal Pro camera payload for unmanned aerial vehicles (UAVs), which now features a more compact size, lower weight, and a stronger mechanical structure.
The Veronte Gimbal Pro incorporates a RGB camera with Full HD resolution and 30x optical zoom, and a 24.4mm thermal camera with 640×480 resolution. It integrates all the image processing electronics for both cameras. Without the need for external devices, the gimbal is able to record video, take photographs, encode the video and perform target tracking and moving object detection.
In addition, Veronte Gimbal's integration with Veronte Autopilot allows the use of data from the gimbal's position or the video processing in the system's navigation, enabling advanced functions such as fly-by-camera and geo-tagging.
The user has easy access to the videos and images taken by the gimbal, which are stored on a removable onboard storage unit. The storage unit can be removed and replaced in seconds, without having to disable any component of the system.
The cameras can film in any position thanks to Veronte Gimbal's infinite rotation on both axes. The gimbal is also equipped with high-precision 17-bit encoders that provide excellent image stabilization and precision.
Find Suppliers of Gimballed Camera Systems & Components
The new gimbal's attachment system, along with a direct electrical connection through a single connector, make it easier to install and reduce the time required to integrate and start up the system.