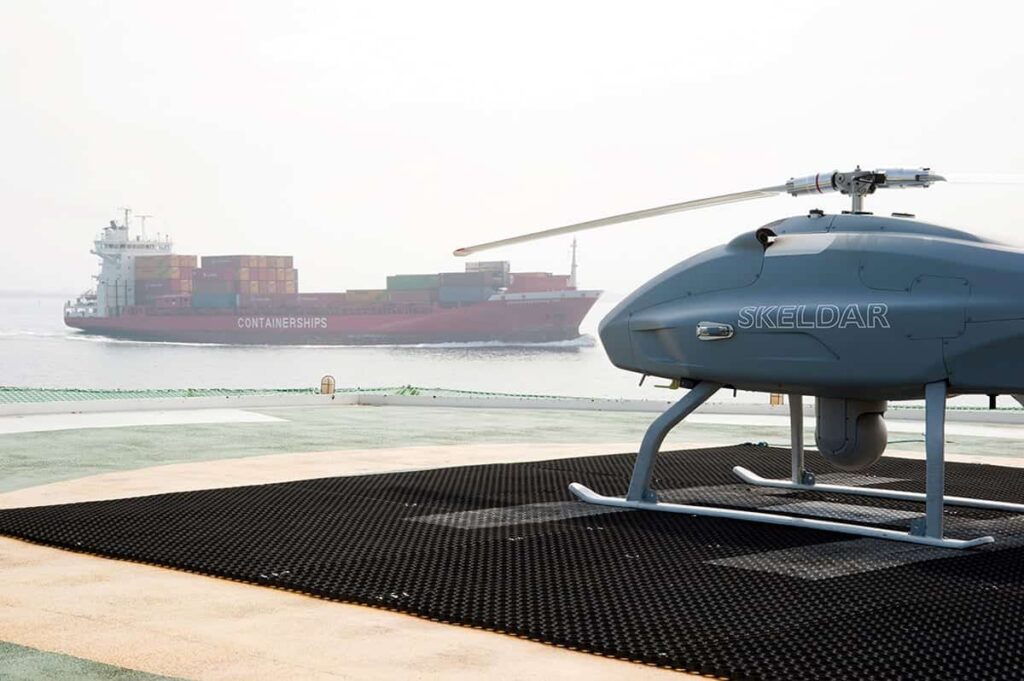 UMS SKELDAR, a provider of rotary Unmanned Aerial Vehicle (UAV) solutions, has announced that it has showcased multi-payload capabilities at LAND FORCES 2018, Adelaide, Australia. UMS SKELDAR has selected Sentient Vision Systems' Kestrel as the main sensor in its capability set.
The SKELDAR V-200 UAV equipped with Kestrel – continuously upgraded in co-operation with the Australian Department of Defence (ADF) – can autonomously detect movement too small or slow for human eyes via electro-optical and infrared video. Kestrel has been deployed on more than 1,700 systems across six continents and has provided support for the ADF as well as US and Canadian armed forces.
Simultaneously tracking multiple objects of interest over land, the software displays a trail of 'breadcrumbs' that indicate the path taken by each detected object. This makes the process of scanning an area for potential threats as streamlined as possible.
"Our partnership with Sentient Vision Systems, covers the range of operationally proven systems including Kestrel and ViDAR, allowing us to provide land and sea coverage based on the world's first optical radar," said David Willems, Head of Business Development, UMS SKELDAR. "Strategic partnerships through global organisations such as Melbourne-based Sentient Vision Systems and Perth-based Orbital Corporation underpin our pioneering relationship with innovative Australian companies at the leading edge of technology advancements. These international relationships are in addition to our long-term commitment to Australia through joint venture partner Saab's presence over 30 years as Saab Australia."
The UAVs manufactured by UMS SKELDAR include a radar mode of operation to identify a moving target. Once locked, the platform can tail and send real-time information to its bespoke Ground Control Station (GCS). The ability to receive real-time information without risking personnel on the ground provides operators with an intelligence advantage in any environment.
A suite of Commercial Off-The-Shelf (COTS) High resolution Electro Optical/Infrared (EO/IR), Synthetic Aperture Radar (SAR) and Electronic Warfare (EW) sensors are available for deployment with NATO-compliant SKELDAR V-200 and integration to other ground and air- based assets.
Willems explained that UMS SKELDAR's VTOL (Vertical Take-off and Landing) unmanned helicopter offering provided a versatile multi-role platform, with unmatched TBO (Time Between Overhauls). "With missions ranging from counter-insurgency operations and border patrols to wildlife protection and emergency response, our sensor rich UAV is ideal for fast response and as part of an integrated ISR package. Add to that our unrivalled maintenance intervals and user- friendly systems, we are the first choice for battlefield and mission commanders."
Simon Olsen, Business Development, Strategy and Partnerships, of Sentient Vision Systems added: "Truly taking this mission-critical intelligence, surveillance and reconnaissance (ISR) capability to the next level of performance has required embedding the detection capability into the air vehicle itself. Before Kestrel, forces on the ground were relying on human operators to literally watch full-motion video and detect operational threats. With Kestrel, threats and issues were suddenly clearer. The observer peering at a digital video shot from an aircraft thousands of feet in the air may not notice armed insurgents in the shadows alongside a road with a Coalition convoy approaching, but Kestrel would."