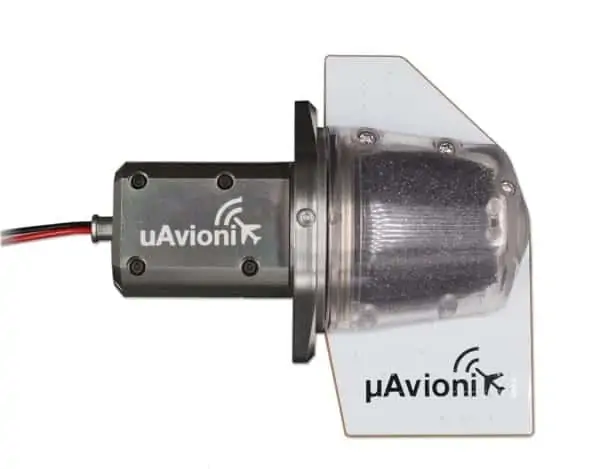 uAvionix has announced the availability of its new tailBeacon EXP ADS-B solution. TailBeacon EXP is available currently for experimental and light sport manned and unmanned aircraft, and is expected to achieve TSO certification shortly.
TailBeacon is the second in a family of Zero Install ADS-B OUT solutions from uAvionix. It combines ADS-B OUT, WAAS GPS, Barometric Pressure Altitude Sensor and LED tail position lights into a compact tail position light replacement unit. With two screws and two wires, installation is complete in minutes. TailBeacon is fully 14 CFR 91.227 "ADS-B mandate" compliant.
uAvionix is leveraging its skyBeacon certification efforts for the tailbeacon. "The tailBeacon is nearly a carbon copy of skyBeacon. As this is largely a repackaging effort, we expect certification to be achieved very quickly," states Ryan Braun, COO. "While working on the certification for skyBeacon, we've been preparing the TSO package for tailBeacon as well."
The certified device will consist of:
ADS-B (TSO C-154c, Class B1S)
WAAS GPS (TSO-C145d, Class Beta 1)
Barometric Pressure Altitude Sensor (TSO-C88b)
Tail Position Light (TSO-C30c, Type III)
Similar to skyBeacon, tailBeacon allows installation in minutes by simply removing the current tail position light and replacing it with the tailBeacon. The existing wiring and circuit breaker provide power and interface to the existing Mode C or S transponder through uAvionix's patent pending power transcoder. No airframe modifications, additional wires or antennas are required. The upgraded LED position lights deliver increased safety and night visibility at no additional cost.
Broadcasting on the UAT/978MHz frequency, tailBeacon offers rule compliant operation up to FL180 within the U.S.
"With the introduction of skyBeacon, we received feedback from many pilots who simply couldn't fit it on their wing," said CEO Paul Beard. "The tailBeacon is meant to address those aircraft that skyBeacon can't reach – such as newer aircraft with enclosed wingtip position lights."