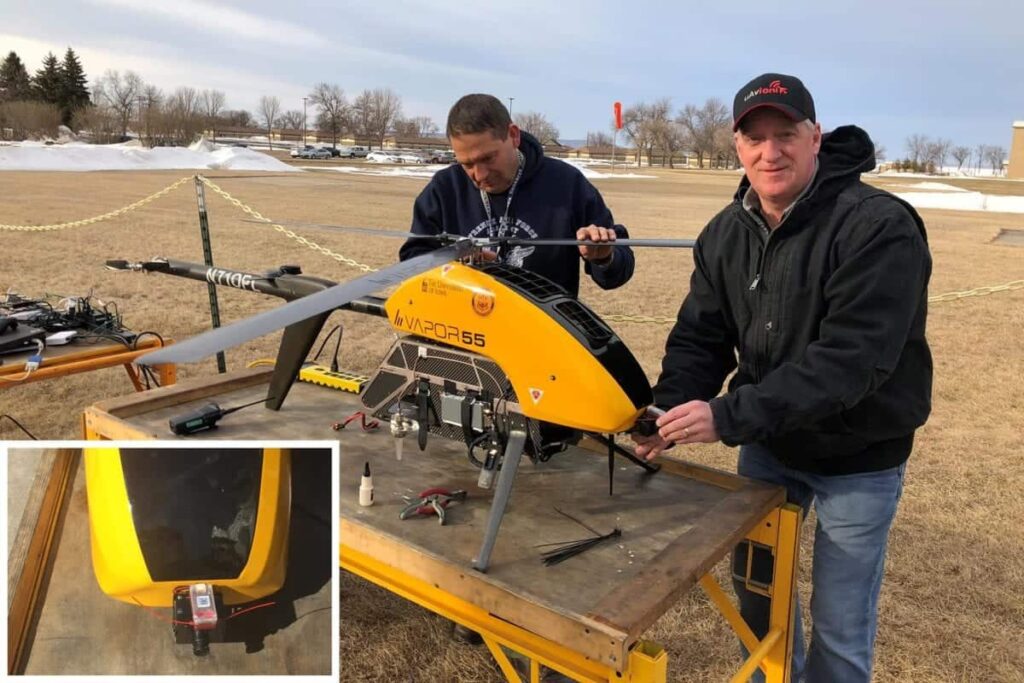 uAvionix has announced that it has successfully completed testing and demonstration of the DroneAware uAvionix UAS (unmanned aerial system) Remote Identification solution for NASA's Technical Capability Level 3 (TCL3) UAS Traffic Management (UTM) system.
The tests were conducted in coordination with North Dakota's Northern Plains UAS Test Site (NP UAS TS), Simulyze, and Rockwell Collins. A uAvionix DroneAware transmitter was flown on a Pulse Aerospace Vapor 55 operated by Rockwell Collins. Transmissions were received and decoded by two separate types of uAvionix ground-based receivers and transmitted to the Simulyze UAS Service Supplier (USS) platform, where it was communicated to the NASA UTM backbone. The prototype DroneAware system, weighing 10 grams, consisted of a combined transmitter unit and FYXNAV GPS module.
DroneAware is an entirely new remote identification platform being developed by uAvionix. DroneAware is a subscription-free, RF broadcast, "ADS-B like" solution modified for the special needs of security, law enforcement, and media personnel who wish to cooperatively identify drone operations. The DroneAware system operates on non-ADS-B frequencies and lets the operator voluntarily provide operations information such as the UAS unique identifier, UAS location via GPS coordinates, UAS launch location, mission type, and operator phone number. Personnel within receiving range of the broadcasts with a receiver will be able to receive the transmission and display the information on a mobile device.
Christian Ramsey, President of uAvionix, said: "Our vision is to include DroneAware receivers in everything we develop, from ground-based receivers to airborne avionics. We are planning a family of products ranging from retrofit solutions for existing UAS to OEM modules for direct integration. We are especially thankful to the Northern Plains UAS Test Site, Simulyze, Rockwell Collins, and NASA for allowing us to achieve this first testing milestone."