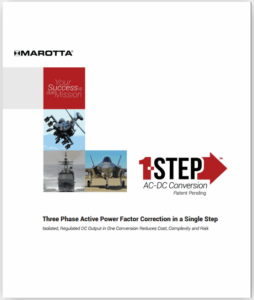 Marotta Controls, Inc. has released a technical article which explains how their 1-STEP AC-DC Conversion™ circuit solution improves the performance of power electronics designs, by reducing three phase active power factor correction (APFC), power regulation and electrical isolation into one single conversion step.
The report provides a brief technical overview of 1-STEP AC-DC Conversion, contrasting this new technology to existing conversion options such as auto transformer rectifier units (ATRUs) and Vienna rectifiers. The report includes quantified test results, and goes on to highlight the competitive value and advantages of this new solution, with reference to relevant military and commercial applications.
Download the full article (opens in PDF).
The article also discusses three key challenges of rectifying Three-Phase Power:
• Power factor correction
• Electrical isolation, and
• Input current distortion.
Download the full article (opens in PDF).
Marotta Controls' 1-STEP AC-DC Conversion™ solution achieves regulation and isolation in a single step, thereby simplifying complex circuitry to create a significant design advantage with reduced size and weight, extremely low harmonics (3%) and unity power factor.