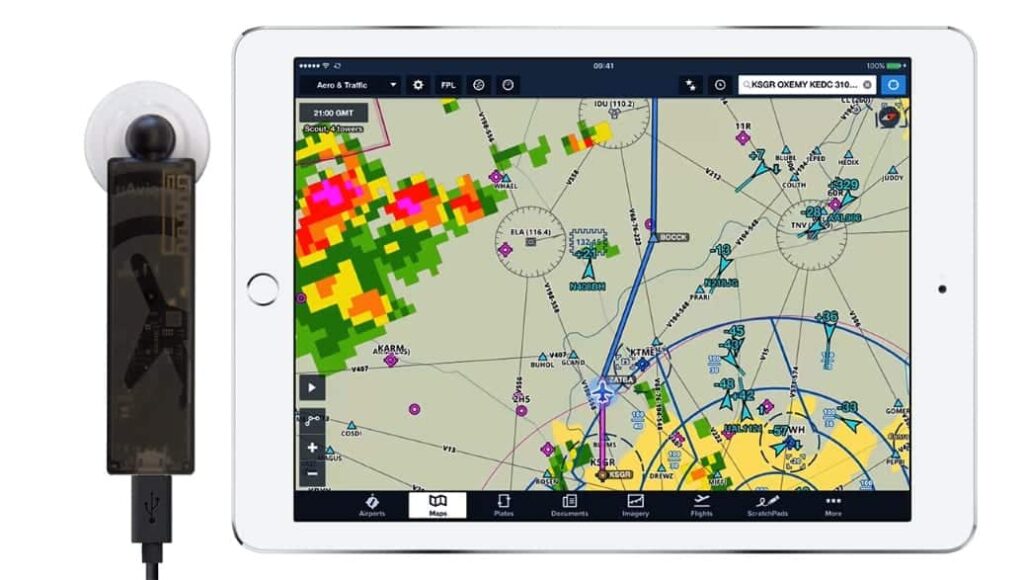 uAvionix and ForeFlight have announced the release of Scout, a portable, dual-band ADS-B receiver in a small form-factor that delivers inflight weather and traffic information to ForeFlight's Mobile app.
Scout can be positioned on any window surface using a flexible ball-joint and suction cup mounting system, and plugged into a power source. The system can be powered using any 5 volt Micro-USB power source, including existing USB chargers installed in aircraft or rechargeable USB batteries.
Scout is the latest example of uAvionix's vision of enabling General Aviation with technologies developed for the drone market. "Every aircraft – whether manned or unmanned – is inherently safer with ADS-B," said Christian Ramsey, President of uAvionix. "The ability to see and avoid weather and other traffic should be something that all airspace users can take advantage of. Our partnership with ForeFlight on Scout is a significant moment in the availability of this safety technology to pilots everywhere."
"We are excited to bring Scout to market in collaboration with uAvionix," said Tyson Weihs, ForeFlight co-founder and CEO. "We want every pilot flying with the benefits of ADS-B In. The combination of an ADS-B In solution with ForeFlight makes flying safer and we believe has led to a meaningful reduction in weather related incidents and accidents. We are delighted to now offer – for those pilots and operators on a limited budget – a low-cost option that will increase the number of pilots who can fly with this essential safety-enhancing capability. Inflight weather and traffic delivers better situational awareness and leads to better decision making."
Users can connect their iPad or iPhone directly to Scout's integrated Wi-Fi network and receive inflight subscription-free ADS-B weather and traffic information displayed exclusively on the ForeFlight Mobile app. Scout supports up to four devices as well as Cockpit Sharing, a feature that enables users to easily share routes between all devices on Scout's network, allowing for a co-pilot or CFI to follow-along and monitor weather and traffic.
Scout supports the full range of FIS-B weather and data, including animated regional and CONUS NEXRAD, METARs, TAFs, AIR/SIGMETs, PIREPs, winds and temps aloft, TFRs, NOTAMs, and SUA information. Scout can also receive air-to-air traffic information from ADS-B Out equipped aircraft and re-broadcast traffic information (ADS-R and TIS-B) from FAA ground towers. Over-the-air firmware updates are delivered through ForeFlight Mobile and completed in a short period of time.