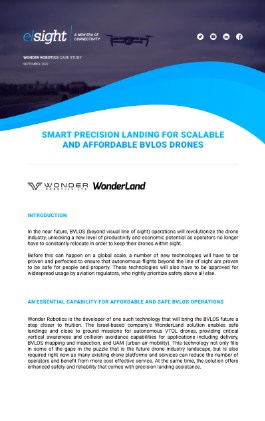 Elsight has released a case study detailing how its Halo cellular connectivity platform has been used by Wonder Robotics, the developer of a pod-based solution that provides smart precision landing technology for autonomous drones.
While the pod itself is completely self-contained and requires no external communications, Halo was essential for flight tests and also for providing Wonder Robotics' customers with a video and data link.
Download the full case study from Elsight's website here
The case study covers:
Why Wonder Robotics' technology is a key enabler for the next stage of BVLOS (beyond visual line of sight) drone operations
How the WonderLand pod ensures that potential landing sites are safe and suitable
Why Wonder Robotics chose not to rely entirely on AI
Why Elsight's Halo was the ideal solution for Wonder Robotics' requirements
To find out more about the advantages of cellular connectivity for advanced UAV use cases such as BVLOS operations, download the full case study from Elsight's website.