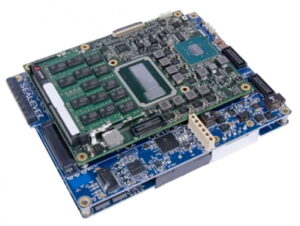 Sealevel Systems highlights how the company's COM Express-based computing solutions have been used in the development of an augmented reality system that displays and records video overlaid with mission-critical information for law enforcement, search & rescue, firefighters, military, unmanned aircraft systems (UAS) and more.
A leader in augmented reality mapping systems approached Sealevel to help develop their next-generation system and geospatial video recorder. The goal was to create a product that could perform tasks such as the display and recording of live video of ground-based targets overlaid with street names and points of interest in real time.
The key design challenge was the requirement for a very small footprint combined with high-performance specifications, extremely dense I/O features and wide operating temperature range.
Sealevel's engineering team created a custom dual-board carrier solution packed with a large amount of I/O in a very small form factor. The COM Express Type 6 carrier board was designed for a -40C° to +85°C operating temperature range, and features a wide I/O set including:
Four ARINC 429
Two Gigabit Ethernet
Four USB 3.0
Eight analogue-to-digital
One digital-to-analogue
Twenty GPIO
Four differential audio
Ten serial
Four PS/2
One CAN bus interface
HDMIS, SDI, component and composite interfaces
Dual M.2 expansion
To find out more about the benefits of using COM Express for highly configurable and rugged computing designs, read this article on Sealevel's website.