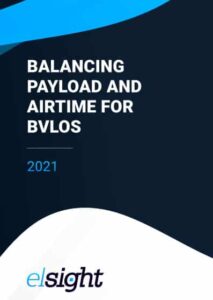 Elsight has released a new ebook that highlights some of the challenges that come with developing a BVLOS (beyond visual line of sight) drone platform, focusing on the balance between onboard components that fit the aircraft's SWaP (size, weight and power) budget and maximising airtime.
Download the ebook from Elsight's website here
The ebook covers:
The components that typically need to be specified when developing a drone platform
How the work performed by some drone subsystems can be offloaded to the cloud, thanks to high-reliability connectivity solutions
Essential capabilities for BVLOS operation and regulatory compliance
How Elsight's Halo platform provides an all-in-one solution for BVLOS drone command, control and communications needs
Elsight's low-SWaP Halo connectivity solution combines multiple communications links into one seamless pipeline, automatically selecting the most suitable available connections. With high bandwidth and automatic failover protection, Halo is ideal for enabling BVLOS drone operations. To find out more, download the ebook from Elsight's website.