Sky-Drones Cloud
Everything Integrated Everywhere
Sky-Drones Cloud is a web-based application for drone fleet management, performance monitoring, mission planning, real-time control and post flight AI analytics.
Our cloud is the hub of all your data when working with and operating your fleet of drones and numerous drone operators. Your data no longer needs to be distributed across multiple services or excel sheets; our centralised software is the key to all your information stored securely from one easy-to-use dashboard. Take your drone workflow to the next level with Sky-Drones Cloud.

Sky-Drones Cloud is tightly integrated with all Sky-Drones hardware and software products including autopilots and SmartLink. The data transmitted from your drone fleet to the ground station is available in the cloud to view as and when needed. Data from both flights and payloads can be synced either post flight or during the flight with LTE connectivity, and is encrypted end-to-end.
Due to Sky-Drones Cloud being web-based, the data can be accessed from anywhere at anytime. Drone and operator can be at the flight location while mission managers can observe the flight from the other side of the world. Sky-Drones are bringing about situational awareness using drones to a completely new level.
Dashboard
The powerful and flexible Dashboard view within Sky-Drones Cloud provides all major information at glance. General information about assets, users and flights allows quick estimates of fleet performance and effective decision making when little time is available. Choose your filters from periods of time to specific fleet parameters - Sky-Drones provides all the tools for increasing efficiency of your drone workflows.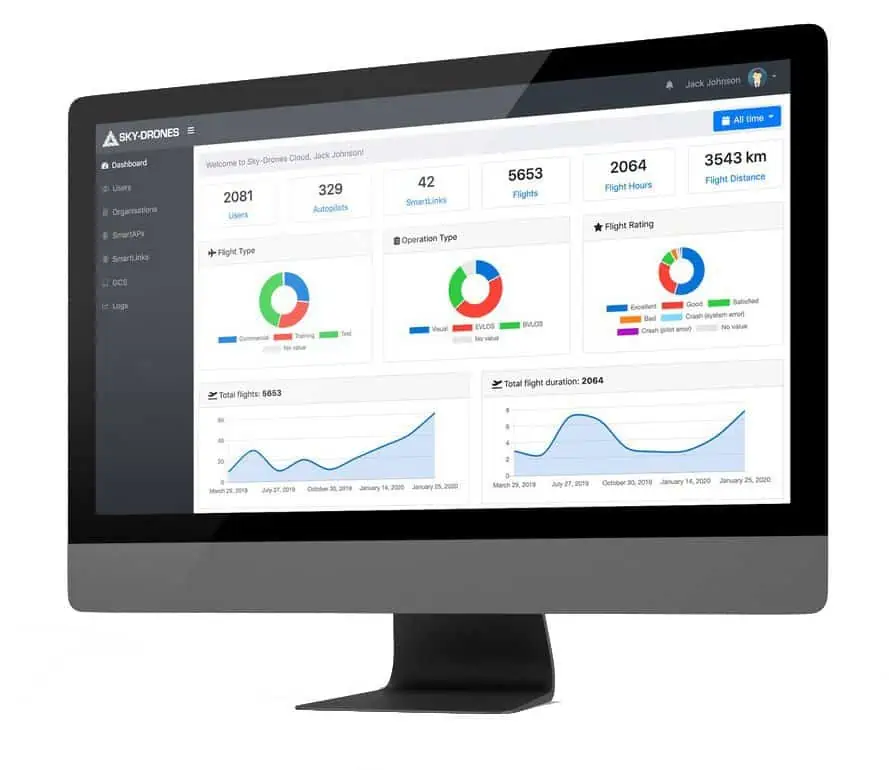 Fleet Management
Ever thought 'which drone is used the most?' 'which operator has logged the most hours this weekend?' 'how long until drone 17 needs a service?' - no need! Answer all your own questions plus questions you never thought of answering within Sky-Drones Cloud. A large number of parameters to choose and filter from makes this software the Google Analytics for drones.
Tracking your assets has never been easier than before now. Flight data is synchronised in real-time with drones using LTE connectivity. Software onboard your UAV flagging up as not being the most current or up-to-date? Update it remotely. Interested in real-time flights like who is currently flying right now? Live tracking can show you just that.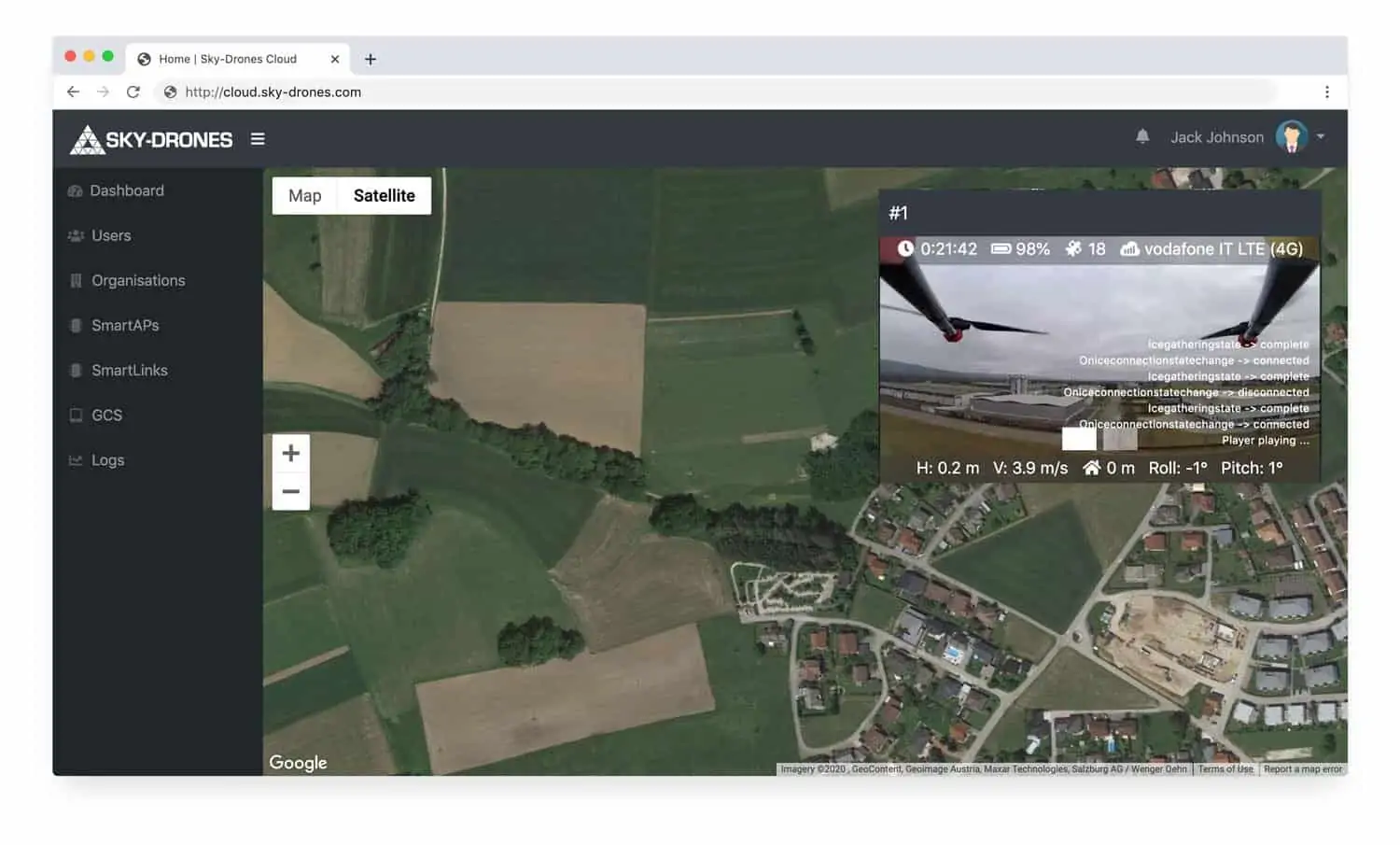 Flight Logs
Every flight log is stored indefinitely in the cloud and accessible as and when you need it. The detailed flight log analytics ensures the best possible flight performance of your vehicle and detects potential issues before your customers or pilots know about them. Flight logs allow users to create a detailed history of all your drone operations, particularly useful for post-flight playback. Constant flight log monitoring ensures safe and reliable operations for the whole fleet and for each individual drone.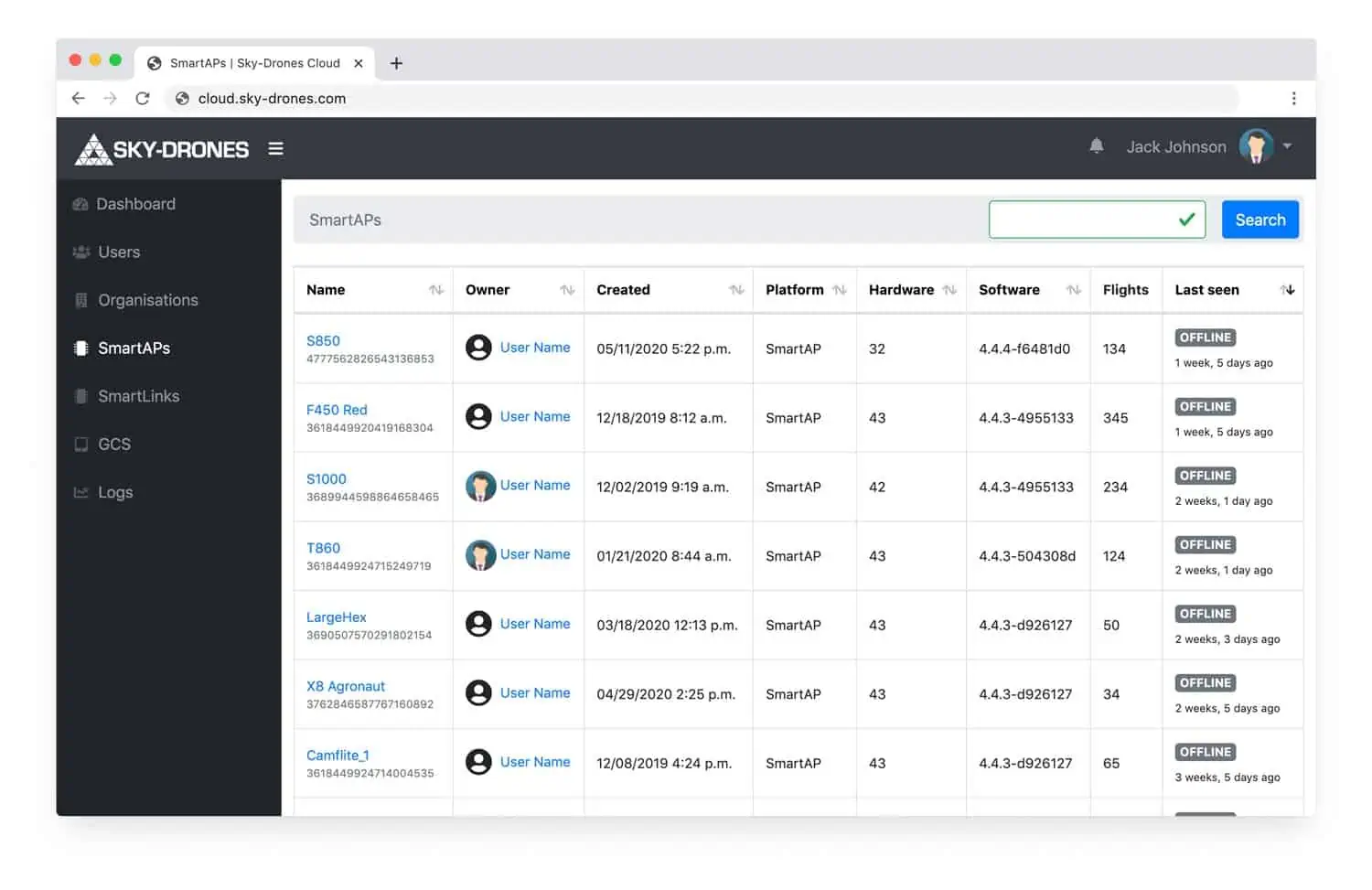 3D Mission Planning
It's not just SmartAP GCS that can plan your flights and missions! Add interactive waypoints and view flight plans from any perspective. Rotate, alter the view angle, tilt, view from above and get back to an orthogonal view all before completing your mission plan. Check out the video below for a full demonstration on how easy it is to plan a mission and save it for later on our cloud-based software for full flight planning and analytics!
Want to know more? Get in touch using the links below!