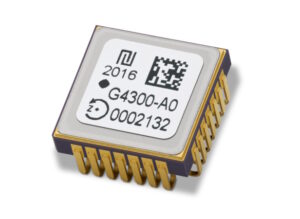 Tronics Microsystems has confirmed that it has completed the pilot production run of its GYPRO4300 MEMS gyro and is now entering full volume production. The sensor's production characteristics have been upgraded to a bias instability of 0.4 °/h, an ARW of 0.07 °/√h and residual bias temperature error of 40 °/h.
GYPRO4300 is a miniature, digital and low-SWaP (size, weight and power) high-stability MEMS rate gyroscope that features a ±300 °/s input measurement range, 200 Hz bandwidth and 1 ms latency with a closed-loop architecture that ensures high linearity and stability in dynamic environments. With a digital SPI interface and SMD package, the gyro is ideal for precise positioning, navigation, and stabilization requirements for UAVs (unmanned aerial vehicles), UGVs (unmanned ground vehicles) and USVs (uncrewed surface vessels).
The GYPRO4300 is the first entry in the Tronics GYPRO4000 digital MEMS gyro series, which will be expanded in the future with additional products featuring improved bias instability and ARW for precise attitude and heading determination and north-seeking functions.