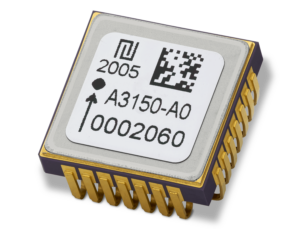 Tronics Microsystems has confirmed that its AXO315 miniature single-axis closed-loop digital MEMS accelerometer is now available at distributors Digikey, Mouser, Farnell, Newark and Element 14. An Arduino-based evaluation kit for developers and system integrators has also been released.
The AXO315 is a ±14 g range, in-plane linear accelerometer designed to provide high precision and reliability for challenging applications with severe temperature and vibration conditions, such as UAVs (unmanned aerial vehicles) and robotics. The sensor achieves a one-year composite repeatability of 1 mg, and a 600 ppm composite scale factor repeatability over temperatures ranging from -55 °C to +105 °C and under 4 g vibrations. It features excellent vibration rejection and superior Allan variance characteristics, with a basis instability of 4 µg, a velocity random walk of 0.006 m/s/√h and a very low noise of 15 µg/√Hz, thus enabling high resolution and low error.
The characteristics of the sensor make it ideal for SWaP (size, weight and power)-constrained designs such as Inertial Measurement Units (IMU) and Inertial Navigation Systems (INS) for GNSS-aided positioning, as well as navigation for unmanned vehicles.
The design of the AXO315 includes a force-rebalance architecture, a 24-bit digital SPI interface and an SMD package. Its performance is equivalent to the incumbent analog quartz accelerometers and mechanical inclinometers, but at a fraction of the size and weight, and integration is easier compared to analog sensors.
The AXO315 complements the existing lineup of the high-performance Tronics GYPRO digital gyros for high-performance IMUs and INS. It is enclosed in a lightweight 1.4 g hermetic SMD J-lead ceramic package measuring 12 x 12 x 5 mm, enabling low-cost assembly and reliability on PCB, even in fast-changing temperature conditions.
The AXO315 accelerometers are manufactured, tested and calibrated at Tronics Microsystems' facility in Grenoble, France. Evaluation of the sensors can be made through an Arduino-based evaluation kit that is specifically designed to provide developers with improved testing functionalities such as output reading and recording, recalibration and digital self-tests.