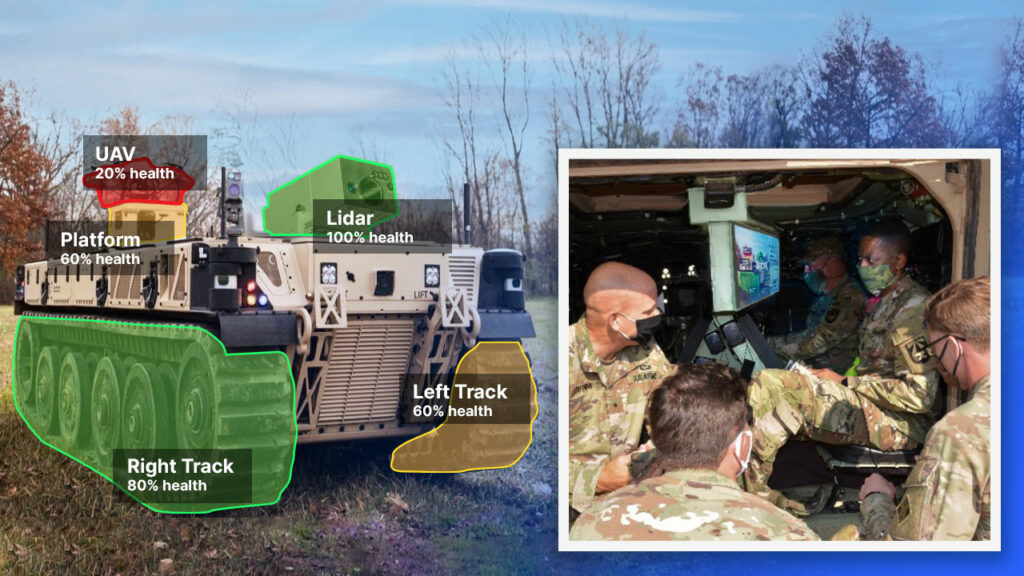 Charles River Analytics has confirmed that it has received a Phase II contract under the Small Business Innovation Research (SBIR) program to provide a system to the U.S. Army that will keep robotic combat vehicles (RCVs) as mission-capable as possible. The Real-time Assessment and Predictive Status (RAPS) system predicts the health and status of RCVs and relays actionable insights to stakeholders across all Army echelons.
Developed by Army Futures Command, the RCV is a tactical vehicle meant to protect the warfighter and reduce the need for putting humans at risk in combat missions. The remote-controlled RCV also delivers tactical advantages using sensors to perform reconnaissance and other information-gathering operations.
To make the most out of expensive RCVs, the equipment needs robust sustainment, maintenance, and logistics protocols. Army decision makers need to know in advance if the equipment is going to fail so they can take corrective action. "Predicting future health and status within some actionable time window can really give an important tactical advantage for RCV commanders and maintenance," says Mr. Kenny Lu, Principal Investigator on the RAPS effort and Scientist at Charles River Analytics. The RCV also needs integration with the Army's decision-making process. "Service members in every echelon in the Army need to trust the sustainment paradigms that support the RCVs," Lu says.
On the frontlines, connectivity is limited and prone to hacking by nation-state threat actors, so artificial intelligence (AI)/machine language (ML) protocols must account for such challenges. To make the insights easily understood and accessible, RAPS will deliver actionable insights through a role-tailored human–machine interface (HMI). "The intent is that our models can be easily integrated into any sort of user-facing interface," Lu says. The system will be intelligent enough to prioritize the information that needs to be relayed immediately, maximizing limited bandwidth, and determine what can be sent after the mission is complete.
"What's new about RAPS is that we're incorporating modern AI and ML solutions to perform predictive analytics," Lu says. "The intent is that these AI/ML solutions will incorporate a combination of sensor data with a huge wealth of institutional knowledge from the Army on how to perform predictive maintenance and logistics."
The hybrid sensor data–human knowledge foundation on which RAPS stands is exciting, according to Lu, because it helps extend the best institutional knowledge and create ideal coworkers for military decision makers.
While Phase I of the RAPS project addressed technical viability, Phase II focuses on the most urgent challenge: sustainment through predictive analytics. As a result of its ability to monitor the health and status of the components of a surrogate vehicle, RAPS hopes to build outward and provide predictions about the entire RCV, Lu says. One of the long-term goals of RAPS is to make the AI/ML solution easily democratized, which means it will need to be accessible, explainable, modular, and adaptable.
RAPS is part of a suite of predictive health monitoring and condition-based maintenance projects in development at Charles River Analytics. "Our hope is that our suite of technologies can be mixed and matched in meaningful ways to commercial applications, whether that be in sustaining smart cars or complex Internet of Things devices," Lu concluded.