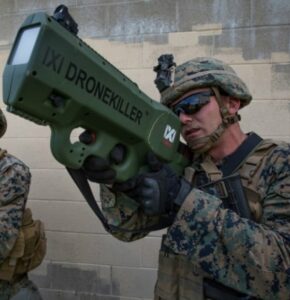 IXI Electronic Warfare, LLC (IXI EW) has been issued seminal U.S. Patent #11,371,812 "ANTI-DRONE WEAPON" as a cornerstone to protecting the DRONEKILLER® counter-unmanned air system (c-UAS) product line against infringement. A total of eight (8) U.S. patents with additional international filings and patents pending now protect DRONEKILLER® software-defined radio hardware, software, architecture, and algorithms.
Michael Carter, IXI EW's CEO, states "Together, these patented technologies form a bedrock for IXI EW's strong intellectual property in the counter-UAS marketplace," which is known to additionally incorporate advanced sensing and waveform trade secrets for enhanced command and control (C2) defeat effectiveness for a given system size, weight, power, and cost. "I am especially proud of the creativity and tenacity of our engineering team for developing novel solutions to our nation's greatest security and electronic warfare challenges."
IXI EW products protected by patented, patent-pending, and trade secret IP include DRONEKILLER®, a handheld c-UAS system, and MUSICON™, a rapidly deployable fixed site system. Soon to be released products include COUNTERPOINT™, an EW effector suitable for mounting on Picatinny and powered I-Rail smart rail systems.