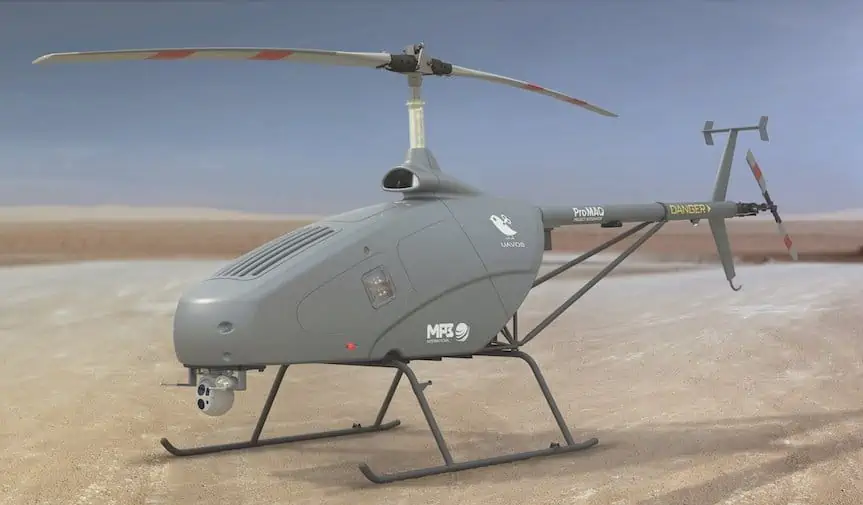 UAVOS has confirmed that, in conjunction with Grade One Group member company MP3 International, it will be debuting a number of new products at the UMEX Unmanned Systems Exhibition and Conference in Abu Dhabi.
The UVH-500 UAV (unmanned aerial vehicle), which is based on a converted manned Heli-Sport CH7 helicopter, is a long-range, heavy-lift platform capable of carrying up to 160 kg with a range of up to 840 km. The unmanned helicopter is designed for heavy-lift operations in remote and hard-to reach areas.
Aliaksei Stratsilatau, CEO of UAVOS, commented: "We believe that remote locations and austere environments can impede delivery of critical parts or supplies in theater and make collecting information for situational awareness on missions difficult or, at times, impossible. UAVOS' UVH-500 VTOL is capable of removing these limitations thanks to runway independence, a small operational footprint and, on some platforms, the ability to carry cargo and sensors simultaneously. The converted UVH-500 can also be featured with a cradle block for aeromedical evacuation."
The Arrow 3 is a high-speed jet-powered unmanned target, tactical drone and testbed for tactical unmanned capabilities that can carry a load of up to 50 kg. It is rail-launched and parachute-recovered, has a range of up to 520 km, and can travel at a speed of 520 km per hour ​​at an altitude of 8500 m. Other capabilities of the platform include the advanced UAVOS autopilot system, the ability to operate in GNSS jamming conditions and resist electronic warfare, and reusability for 20 missions.
UAVOS' new anti-drone laser system offers precise drone detection and tracking performance and allows laser neutralization of drones. The advanced counter-UAS technology allows it to effectively destroy UAVs at a distance of up to 500 m, while optical devices can be disabled at a distance of up to 3 km.
When UAVOS' heavy-duty precision pan-tilt platform system identifies a threat, it allocates the target to the laser, locks onto the target, tracks it, and carries out a kill with its unique integrated laser technology. Optionally, it is possible to connect an all-round radar to detect small targets at distances up to 4 km.
Providing all-weather 360-degree rapid defense against hostile drones, the anti-drone laser system features up to 10.6 mic wavelength with efficiency of 20%. The system neutralizes targets with minimal environmental damage, and unlike rocket weapons and small arms, does not result in the creation of physical objects that can damage infrastructure and people.
The system's efficiency across military and civil applications offers advanced protection for maneuvering forces, sensitive facilities, border protection, as well as increasingly vulnerable civilian targets like airports and other public facilities.
Aliaksei Stratsilatau added: "Through partnerships with the MP3 company we can build on a 'better together' approach to jointly develop technologies that will further future autonomous aircraft while driving innovative research."
Ratko Bozic, Director of Business Development at Grade One Group, said: "We are very happy that we are able to join forces with our partner company UAVOS and continue providing to the UAE Armed Forces with the latest technologies in the unmanned sector, contributing to the safety and peace in the GCC."