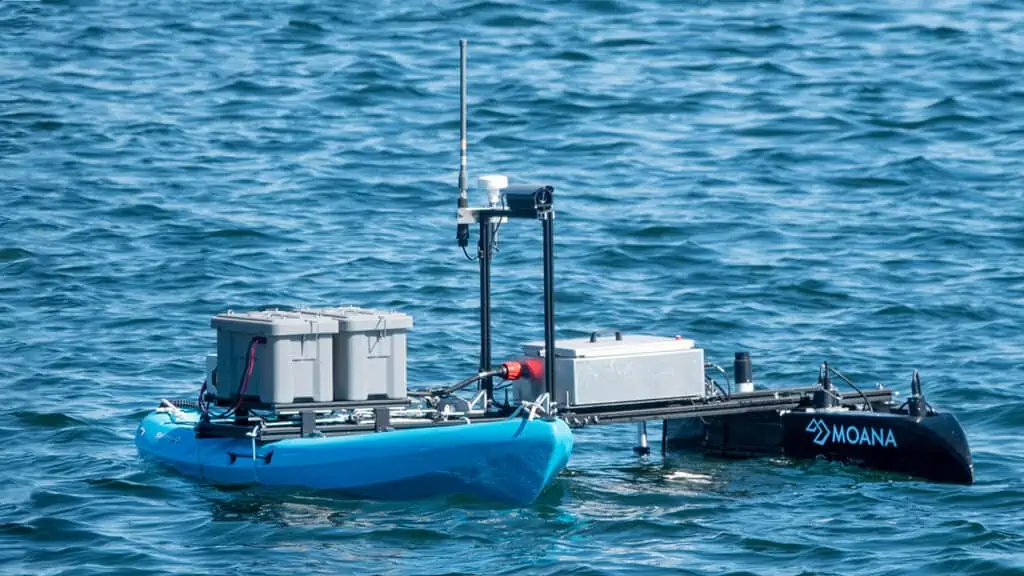 Charles River Analytics has been awarded a contract by the US Navy to develop an outrigger add-on that will turn any kayak into an autonomous data collection USV (unmanned surface vessel) that can measure environmental parameters in shallow coastal environments. These measurements include bathymetry, benthic properties, water column constituents, and hyperspectral radiometry.
Currently, such measurements are made manually using a customized kayak with integrated sensors, but this system is difficult to transport, assemble, and operate. Charles River's Modular Oceanographic Autonomous Navigating Assessor (MOANA) is a portable lightweight sensor platform that offers an extensible, advanced sensor suite in an easy-to-deploy package. With MOANA, an operator can arrive at the shoreline with a set of easily portable shipping cases (for the sensors and mounting fixture) and a common rentable kayak, and be in the water testing in under an hour.
MOANA consists of an ama hull and an outrigger platform. The ama hull houses the environmental sensors and a supporting power/onboard comms module. The outrigger platform contains an adaptable electromechanical interface that integrates the system with any kayak and provides both the autonomous navigation capability and communications back to the on-shore operator.
The design of the platform extends the concept developed by Dr. Steven Ackleson of the Naval Research Laboratory, which addresses the need for a field-deployable survey unit that supports multiple sensors in a compact, easily shippable system.
Jeffery Prisco, Director of Hardware Engineering at Charles River Analytics and Principal Investigator for the project, commented: "MOANA combines our expertise in sensing and autonomous vehicles to create a user-friendly platform for the collection of otherwise hard-to-get environmental data. We can imagine future implementations of MOANA to collect environmental data for climate change studies, enable ocean mapping, or provide disaster relief services."