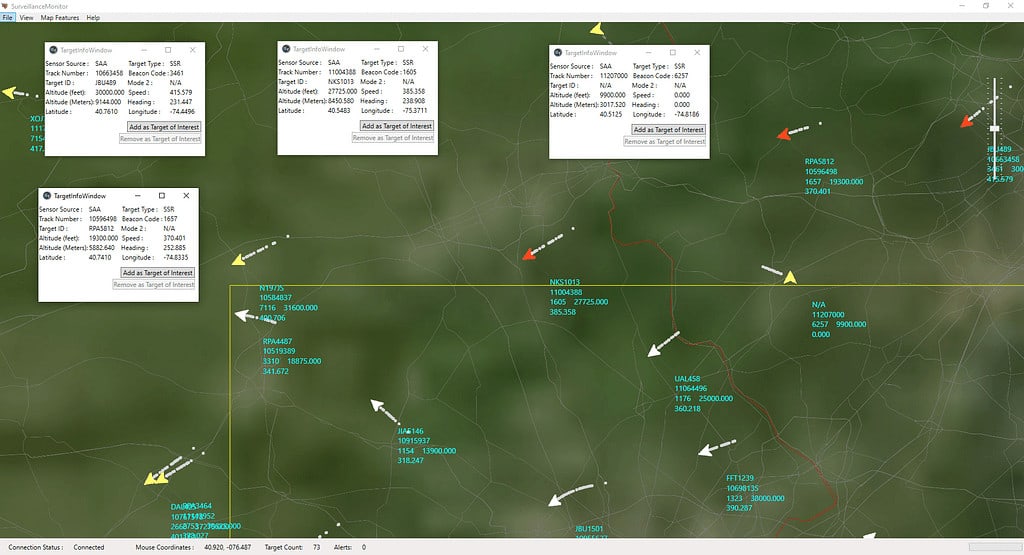 Sunhillo, a developer of tracking, surveillance and monitoring for manned and unmanned aircraft, has confirmed that its Surveillance Monitoring System (SMS) has been deployed at the US Army Alaska (USARAK) Ranges. The SMS is being used for enhanced situational awareness across the Joint Pacific Multinational Readiness Capability (JPMRC), which includes Army Ranges at Joint Base Elmendorf-Richardson, Fort Wainwright, and Fort Greely/Donnelley Training Area.
The SMS receives ten surveillance feeds coming from Short Range Radars (SRR), Long Range Radars (LRR), Multifunction Array Radar (MAR), as well as ADS-B, and processes them for display at each Range Operation, while also allowing for the Ranges to share data between each other in a circuitous redundancy. Sunhillo provided on-site SMS installation and training which was conducted and completed on time for systems to be used to support the Northern Edge training exercise. Each Range Operation has an SMS installation with two 48-inch screens located at the fire desk where all aircraft can be viewed in high definition, providing a detailed view for enhanced safety, efficiency, and training throughput within the JPMRC.
With a fully customizable display and geofencing, the SMS, coupled with DOD software, provides a common operation picture (COP)of real time air and ground operations to fit the Army's training requirements. Selecting any target will bring up the Target Information panel which displays important details such as the target ID, altitude, speed, and heading which is an imperative with live-fire operations within Special Use Airspace.
The SMS also features recording and playback, providing each Range with the ability to review recordings at any time, which can be used for training or incident review purposes. An additional feature allows the USARAK ranges to utilize the customizable graphical overlays offered by the SMS. These provide a different visual display of a particular geographical location (up to 4 distinct pictures per range) without requiring an internet connection.
The SMS' geofencing is configured by creating a polygon fence and overlaying it on the desired base layer map. Targets approaching or entering the geofenced area can be configured to trigger both an audible as well as visual alert. This provides USARAK with a redundant capability to assist in separating non-participatory aircraft from hazardous activities, as well as supporting the Army in their responsibilities with the FAA.
Dave Whitman, CEO and President of Sunhillo Corporation, commented: "I am proud to be supporting the USARAK with our Surveillance Monitoring System solution to further assist them in enhancing their situational awareness and training exercises."