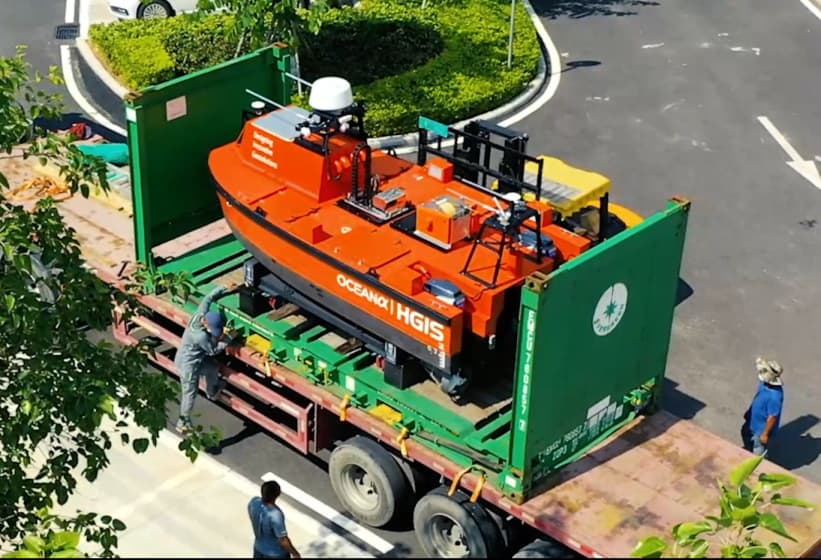 OceanAlpha has successfully delivered a 4.5-meter-long large unmanned surface vessel (USV) to HGIS, a geophysical and surveying solutions provider based in Brunei, who will use the vessel to inspect offshore oil and gas pipelines belonging to the Shell Petrol company.
Efficiency has always been a main concern for the oil and gas industry, and remote technology has come to the forefront under the impact of COVID-19 and the progress of globalization. The electric-powered M40P USV has been specifically designed for long-term operation in offshore oil and gas fields, and the vessel's mission endurance can be prolonged by its diesel-electric generator. It can operate for up to 24 hours at a typical survey speed of 4-5kn, and for 72 hours at 2-3kn. The USV also features an automatic winch that allows it to carry out towing operations in greater water depths.
Due to travel restrictions caused by the pandemic, the deal was closed and conducted entirely via by remote communication.
The round-the-clock service delivered by OceanAlpha's professional engineer team provided timely responses and easy-to-follow instruction, and included remote demonstration, examination, training, and on-site testing.
Ran Zhang, general manager of OceanAlpha, commented: "We decided to develop the M40P, an unmanned surface platform dedicated to the oil and gas industry, as there are huge areas of efficiency, safety, and cost that can be improved upon by unmanned vessels."