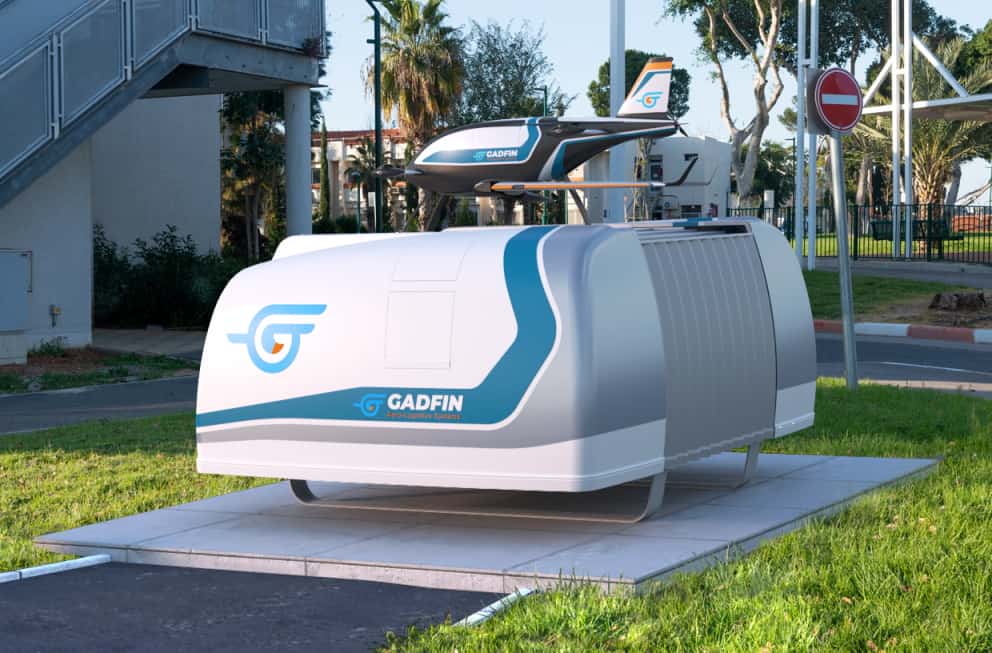 Gadfin has unveiled a new eVTOL (electric Vertical Take-Off and Landing) UAV (unmanned aerial vehicle). The Spirit One, along with its ground maintenance station and enhanced flight management system, enables a fully autonomous drone delivery network that Gadfin hopes will revolutionize logistics supply chains and connect peripheral areas to urban centres.
The Spirit One has a MTOW of 25kg and a flight range of more than 250 km (155 miles). This range is further multiplied through automated ground maintenance stations that can perform an autonomous ground cycle and relaunch the drone, making it an ideal solution for cost-effective supply of healthcare services and devices to a multitude of regions. The aircraft also features a speed of 100 km/h (93 mph), a clean hydrogen electric energy supply, unique aerodynamics, and patented folding wings.
Gadfin's autonomous long-range service based on the Spirit One is a fully autonomous B2B aerial delivery system that can create a physical internet between warehouses, hospitals and clinics around the world with a 24/7 AI-managed grid, to supply on-demand delivery in a rapid and cost-effective manner. The novel folding wing technology allows the UAV to adapt its flight mode to specific circumstances, allowing optimal vertical take-off and landing as well as traditional fixed-wing flight.
Other features of the Spirit One and new drone delivery technology include:
Redundancy and safety – an ASTM3322-l8F compliant independent parachute system, redundancy in all critical systems, and ADS-B + RID compliant with UTM systems standards. A multi-redundant communications system comprising an Inmarsat satellite communication system, along with a quad-redundant cellular communication system, and full redundancy in power system management, enables GADFIN's drones to fly BVLOS over populated areas.
Aerodynamic optimization – GADFIN's aerospace engineering expertise, custom software, wind tunnel testing, patents and surface analytics have resulted in superior aerodynamic performance.
Hydrogen power – The fully electric platform uses both high density LiPo batteries as well as energy-rich hydrogen fuel cells. This highly efficient combination, together with GADFIN's proprietary power-distribution module, allows drones to fly further for longer intervals. With an IP65 rating and a combination of mechanical engineering and material technologies, GADFIN's eVTOLs can operate under a variety of conditions including dust, rain, and wind.
GMS7 Ground Maintenance Station – the fully automatic station allows for complete unmanned operation of the Spirit One long-range UAVs, including package handling and power system management. Accurate takeoff and landing requiring only a small footprint on the roof of any hospital, logistic facility, or on a ship's deck out at sea. A robotic system loads and unloads delivery packages חס the aircraft, increasing safety and productivity, and also refuels hydrogen tanks from an independent onboard hydrogen generator.
The company is also currently developing a larger aircraft that will be able to carry up to 100 kg (220 lbs.) for longer distances. The Gadfin Spirit-X is an enhanced version of the Spirit One and designed to fly more than 500 km (310 miles), at 150 km (93 miles) an hour, all while maintaining eVTOL capabilities and producing zero harmful emissions.
Eyal Regev, CEO of GADFIN, commented: "With wings in the folded position and smaller footprint, only a small landing area is required, maneuverability is enhanced, and side winds are overcome. This allows the Spirit One to operate in urban settings as well as in other challenging operations, such as landing on marine vessels, ocean rigs, and buildings. When the Spirit One reaches altitude and is ready for horizontal flight, it spreads it wings and flies long distances with great energy efficiency."