HM Coastguard plans to operate Schiebel's CAMCOPTER S-100 Unmanned Air System (UAS) alongside its current search and rescue helicopter and fixed-wing surveillance aircraft in North Wales, UK this summer. The first operational drone flight will join HM Coastguard manned helicopters, planes, boats, and cliff rescue teams.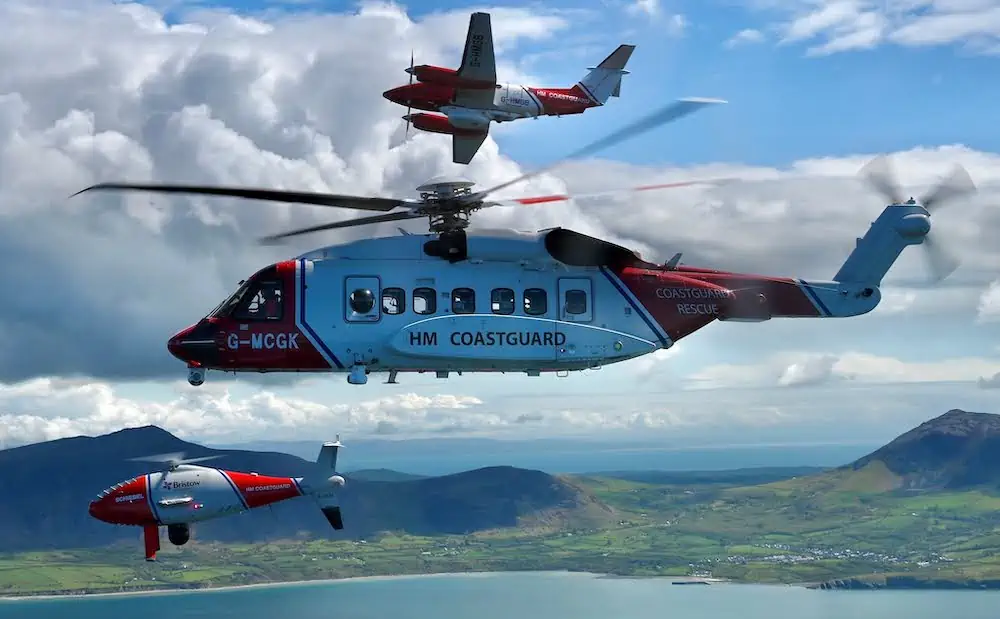 The CAMCOPTER S-100 is a proven capability for military and civilian applications. The Vertical Takeoff and Landing (VTOL) UAS needs no prepared area or supporting launch or recovery equipment. It can operate day and night and in adverse weather conditions with a range out to 200 km, both on land and at sea. 
Initially trialled a year ago, the drone will fly from the HM Coastguard helicopter base at Caernarfon, and will also participate in a series of major training exercises with other emergency response teams.
During a phase of operational integration training, the UAS – operated by Bristow Helicopters Ltd – flew in formation alongside both the HM Coastguard S92 helicopter (also operated by Bristow), and HM Coastguard's King Air surveillance aircraft, operated by 2Excel Aviation.
"Flying the Schiebel S-100 remotely piloted system alongside our helicopter from Caernarfon and the 2Excel surveillance aeroplane was a landmark for the HM Coastguard air search and rescue service," Neil Ebberson, Director UK Search and Rescue at Bristow, said. 
"It was the first time the three had trained together in the same airspace and further demonstrates the operational capability for safety overwatch which we first saw last summer over the beaches and mountains of Wales." 
HM Coastguard's current search and rescue helicopters and fixed-wing surveillance aircraft provide support in maritime, coastal and inland environments, including mountainous regions. 
"Keeping people safe on the sea and around our coast will always be a priority, which is why we continue to explore new and cutting-edge ways to modernise search and rescue efforts," said Maritime and Aviation Minister, Robert Courts. 
"Drones have the potential to help our coastguard teams save even more lives and it is right we are working to advance these technologies here in the UK."