FarSounder has released an article exploring the integration of Argos  Forward Looking Sonar Systems with autonomous navigation control systems.
The article identifies the development of comprehensive and reliable navigation systems as a major challenge in the widespread evolution of autonomous vessels.
Read the article in full here >>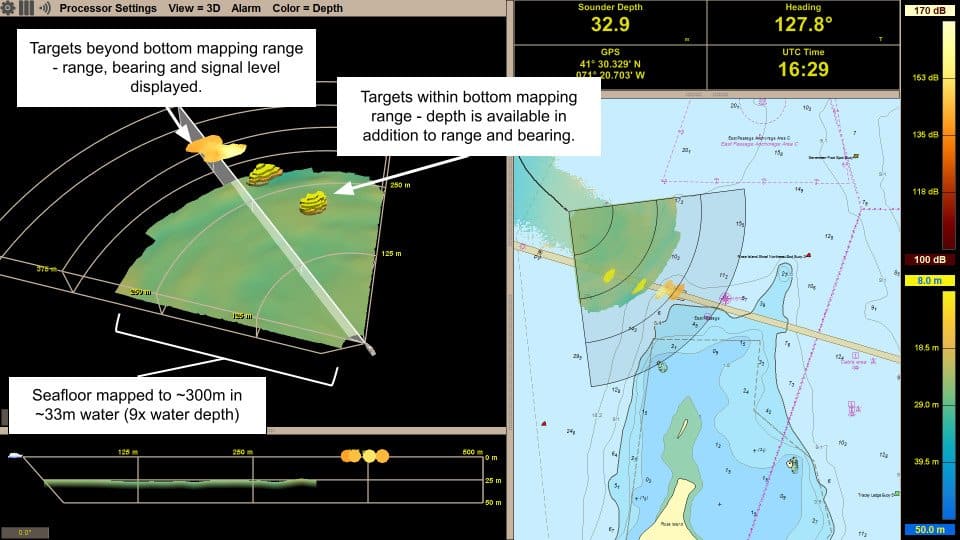 Argos Systems provide vital, real-time information about the state of the environment in front of a vessel and below the water line. The FarSounder technical article discusses what the Argos data looks like to a human, and how this information is typically integrated into a navigation control system.
Collecting data about what may be ahead of the vessel, under the water, is useful for any navigator. However, this data is even more crucial for safe navigation in autonomous systems in which no human operator is present. The Argos series of 3D FLS for real time navigation, is capable of providing information about seafloor depths and water column hazards in 3D out to navigational relevant ranges.
Unmanned or autonomous vessels have to navigate inaccurate GPS positioning, uncharted or unforeseen hazards in the water column such as reefs or shipping containers, and inaccurate depth data on nautical charts. The availability of real-time data describing the presence of possible navigation hazards and seafloor depths ahead of the vessel is crucial to autonomous systems if they aim to be able to successfully adapt to and navigate the changing and sometimes unpredictable marine environment.
The article also provides technical details concerning the recommended method of integrating Argos data into any client system.
Read in full on the FarSounder website: Argos Integration into Autonomous Systems