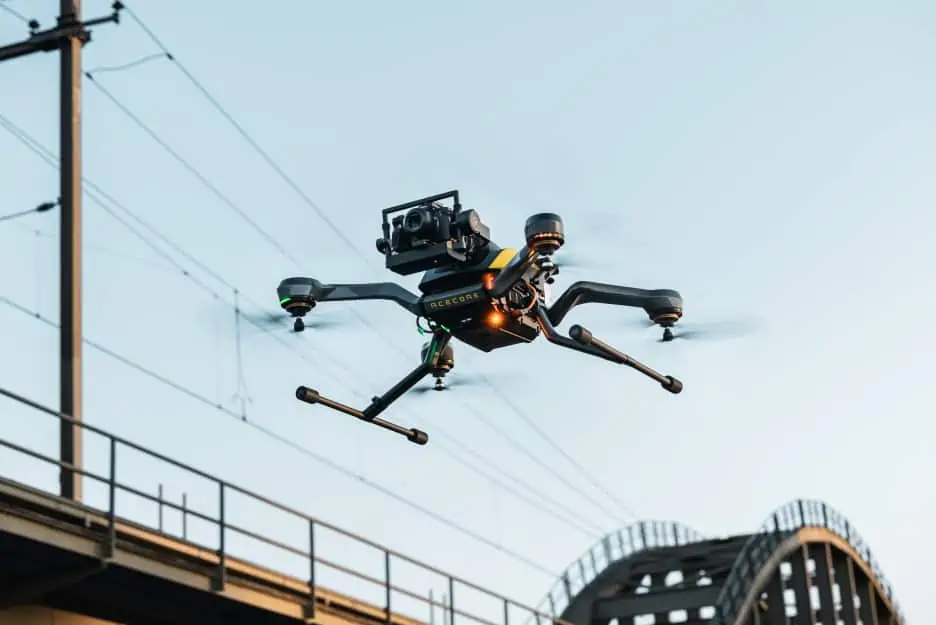 Acecore Technologies has introduced the Zoe Zetona, a new professional-grade UAV (unmanned aerial vehicle) designed for commercial applications such as inspection, surveying and data collection. The new platform is based on the proven Acecore Zoe, and has been specifically optimized to work with a limited number of high-end sensors, such as the 60-megapixel Sony A7r IV mirrorless camera.
The Zoe Zetona features a unique 2-axis Gremsy gimbal that stabilizes the front mounted camera to eliminate vibration in images. The gimbal allows payloads to be mounted in front of the drone's body as opposed to a traditional underslung configuration, providing operators with the ability to tilt the gimbal from 90 degrees upwards to 90 degrees downwards without the drone's frame obstructing the camera view.
The new multirotor drone also introduces a new proprietary coaxial UAV motor that can be upgraded to a fully redundant propulsion system over the standard quadcopter configuration. The coaxial Acecore motor fits in the Zetona's original housing, keeping the system portable and easy to deploy.
As with the standard Zoe platform, the Zoe Zetona is weather-proofed and designed to perform even in high winds, making it idea for missions such as offshore inspections.
The Zoe Zetona is currently available today in combination with a seamlessly integrated Sony A7r IV camera, with more payload options to be added in the near future.
Jorrit Linders, founder and CEO of Acecore, commented: "One of the biggest technical challenges we faced was giving the secondary camera operator control over the drone's yaw movement to adjust the live camera view when inspecting an asset. In the end, we achieved this while ensuring the pilot in command remains in override control over the drone's movements to guarantee a safe operation."
"Since we moved the payload to the front of the UAV, we had to move a lot of the drone's components around to make sure this new system is well balanced and capable of handling all sorts of weather conditions our clients face."