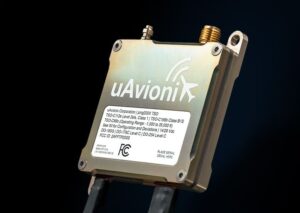 uAvionix has received Technical Standard Order (TSO) certification from the FAA for its flagship ping200X Mode S ADS-B OUT UAS (unmanned aerial system) transponder. ping200X is the culmination of uAvionix' many years of experience in developing low-Size, Weight, and Power (SWaP) avionics for both UAS and general aviation aircraft.
ping200X weighs just 50 grams, with an average power draw of 1.5W, and provides 200 watts of transmit power. The miniature transponder is ideal for a wide range of small UAS, supporting longer flight times and larger payloads with minimal energy consumption. When paired with truFYX, uAvionix's SBAS GPS receiver, ping200X meets the requirements of global controlled airspace, delivering safe separation information to Air Traffic Control (ATC), Traffic Collision Avoidance Systems (TCAS), and Detect and Avoid (DAA) systems.
ADS-B and transponder technologies are essential for the integration of drones into mixed-use airspace. The FAA's recent ruling on remote identification for UAVs establishes that Part 21-certified aircraft must be equipped with a Remote ID device and/or ADS-B OUT Transponder for legal operations. Additionally, the FAA's Concept of Operations for Upper-Class E Traffic Management (ETM) includes ADS-B and Mode S Transponders as key technologies enabling coordination in the upper atmosphere.
ping200X features a combination of a Mode S Transponder, ADS-B OUT, and an altitude encoder. These devices are certified to the following TSOs:
TSO-C112e (Mode S Transponder)
TSO-C166b (ADS-B OUT Extended Squitter)
TSO-C88b (altitude encoder)
Christian Ramsey, President of uAvionix, commented: "Certified avionics ensure the systems perform to the same high standards that have allowed aviation to remain the safest form of transportation for decades. This is even more important for systems like transponders and ADS-B which interact with other airspace users. Regulators and ANSPs demand the design assurance and quality assurance that a TSO offers to ensure safe separation of aircraft."