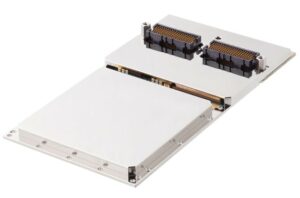 EIZO Rugged Solutions has launched a new high-performance XMC graphics and GPGPU card based on the NVIDIA Quadro P2000 GPU that can be configured to provide a variety of combinations of analog and digital outputs.
The Condor NVP2009AxX supports four field customizable video output combinations of DisplayPort++, 3G-SDI, CVBS (NTSC/PAL/SECAM), and VGA (STANAG 3350/RS-170/RS-343), providing flexibility and simplifying inventory management. The low-latency card is ideal for a wide variety of UAV (unmanned aerial vehicle) and unmanned systems applications, such as surveillance, C5ISR, situational awareness, signal intelligence (SIGINT), and data science.
The card supports a range of video resolutions up to 4K as well as custom resolutions under VGA configurations. It can be factory configured to customer specifications and/or field-programmed to support complex, multi-video needs after deployment.
The analog CVBS (NTSC/PAL/SECAM) and VGA (STANAG/RS-170/RS-343) video outputs can be configured to support single-ended or differential signaling. Differential signaling is a key enhancement over traditional single-ended signaling, minimizing system-induced signal noise. Supporting both signal types is critical for situations where modern and legacy interfaces coexist on a platform. 3G-SDI and DisplayPort video outputs are also available for interfacing with modern digital equipment.
The MIL-STD-810-compliant card supports CUDA and OpenCL based GPGPU computing, AI processing, deep learning, and H.265 (HEVC) / H.264 encoding & decoding. It is available in both conduction-cooled and air-cooled variants, has 4 GB GDDR5 graphics memory, and delivers up to 2.3 TFLOPS of CUDA processing power. The rear XMC pin-out is compatible with VPX systems that follow VITA 46.9 x12d+x8d+24s.
Selwyn L. Henriques, president and CEO of EIZO Rugged Solutions, commented: "Our latest XMC graphics and GPGPU card offers our SWaP-conscious customers with a 'mix and match' solution, supporting both analog and digital outputs. The card's novel design means that customers developing high performance surveillance and mission applications can use the same hardware (single SKU) on multiple programs, thereby simplifying and improving inventory management."