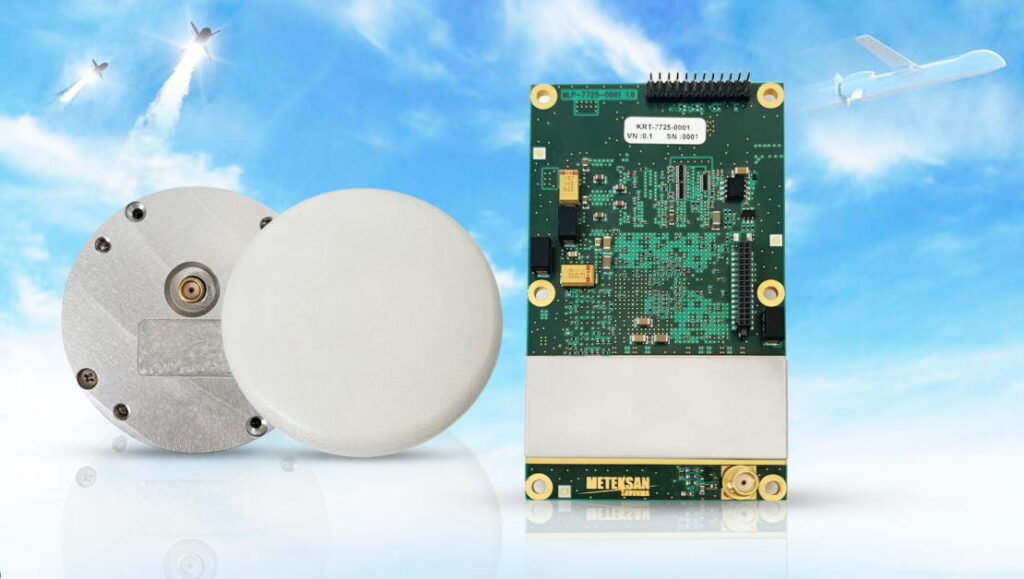 Meteksan Defence has recently completed the development of its Global Navigation Satellite Systems (GNSS) antenna and receivers, which have been designed for use on military platforms such as UAVs (unmanned aerial vehicles), UGVs (unmanned ground vehicles) and UUVs (unmanned underwater vehicles). The company leveraged its broad experience in RF design and the design of low-SWaP (size, weight and power) systems to develop the new product family within a relatively rapid timeframe.
The company has developed active GNSS antennas that are designed to support all satellite systems and can operate on L1 & L2 frequencies, and GNSS receivers that support GPS L1 & L2 and Glonass L1 frequencies and provide precise positioning solution even under high-speed and high-acceleration conditions. Meteksan has also developed an anti-jamming technology known as AGNOSIS, which uses spatial filtering and smart antenna algorithms that enable the tracking of satellites using its own unique receiver.
As part of its integrated approach to systems design, Meteksan Defence has developed a GNSS simulator, which is used to perform functional tests in a laboratory environment. The simulator was developed after it ws found that commercially available systems have limited capabilities to simulate jammer signals that are commonly encountered in the field. Meteksan's solution can simulate GNSS signals of multiple satellite systems as well as jammer signals and platform movement in real time.
Meteksan Defence carried out real-world flight trials on both manned and unmanned aircraft in order to test its new GNSS product family. Tests were also carried out under conditions experienced by ground-based fixed systems. The new products successfully passed all these tests. Qualification and platform integration tests have also successfully concluded, and the new products are now available for platform manufacturers.
Dr. Erdal Torun, Meteksan Defence's Vice President of Communication Systems, commented: "One of the areas of interest of electronic warfare is the jamming of GNSS and the measures taken against this jamming. In an environment where threats and countermeasures are constantly evolving, GNSS can only achieve successful results with an integrated approach. In this context, issues such as having GNSS equipped with multi-channel antennas and multi-frequency and satellite support, the ability to be tested and developed against developing threats and tailored interfaces to the user make a serious difference. As Meteksan Defence, we offer effective solutions in the field of GNSS by applying our competence and deep experience in developing similar products."