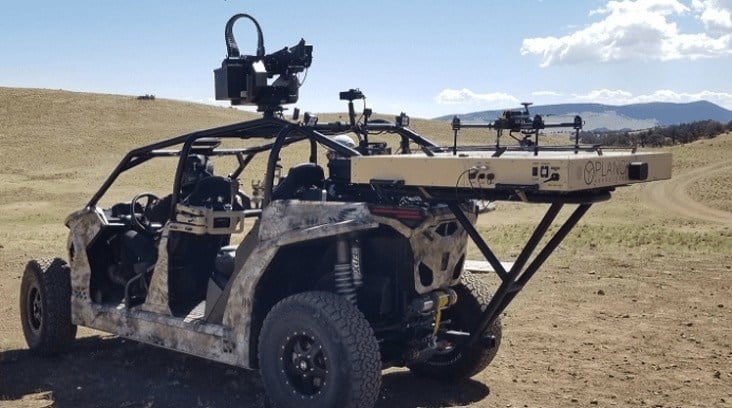 Stealth Technologies and Planck AeroSystems have entered into an agreement to develop a capability for Stealth's autonomous unmanned ground vehicle (UGV) that will allow drones to autonomously launch from and land on the vehicle. The UGV is being developed for perimeter security applications in sectors such as transport, energy, defence, government and utilities.
Planck will provide its Autonomous Control Engine (ACE) system, an embedded software solution that uses machine vision, artificial intelligence and onboard sensors to allow unmanned aircraft systems (UAS) to autonomously launch and recover from a moving vehicle without GPS. Providing centimetre-level accuracy, the system accounts for motion of a vessel or ground vehicle, including roll, pitch, heave, and wind effects.
ACE is currently deployed with five US federal agencies, and with two allied nations. The system has controlled thousands of successful UAS sorties both at sea and from vehicles, on aircraft from many different manufacturers. Planck is working with the United States Department of Defense's Combating Terrorism Technical Support Office (CTTSO), the United States Department of Defense and Department of Homeland Security on various aspects of its technology.
Stealth and Planck's partnership will focus on enabling the UGV to launch and land drones, combining the long endurance of the UGV with the high speed and manoeuvrability of drones and providing a capability that is ideal for the needs of surveillance, reconnaissance, real-time situational awareness, and force protection. The unique perspectives of both platforms can be combined to give an expanded patrol and surveillance dataset, and enable more powerful AI use cases for mapping, navigation, object and person recognition, object and person tracking and scene reasoning.
The companies will also investigate the possibility of integrating tethered drones into the UGV, providing additional deployment options near to controlled airspaces and in areas that have safety requirements that would normally exclude drone operation such as airports and energy facilities.