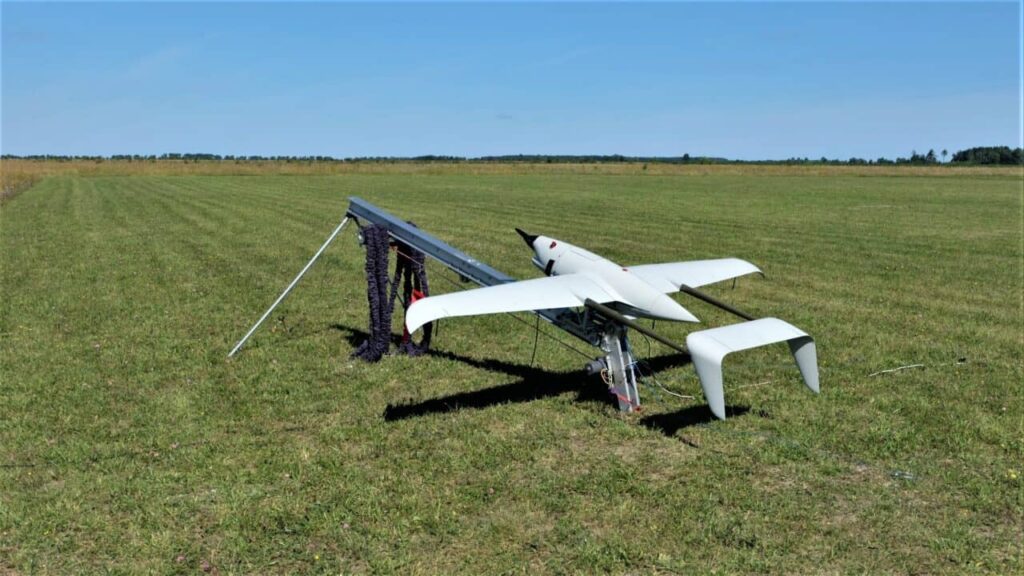 Skyeton has conducted a demonstration flight of the company's Raybird 3 UAS (unmanned aerial system) for representatives of Ukraine's Ministry of Internal Affairs and operational units from the country's police, emergency services, border guard and national guard.
The Raybird 3 is a long-range and extended-endurance platform that can stay in the air for more than 24 hours, making it ideal for the missions likely to be undertaken by these units, such as crime scene investigation, search and rescue, disaster response and persistent surveillance. The drone features a modular payload system with a carrying capacity of up to 5 kg, and can be equipped with a variety of sensors including cameras, synthetic aperture radar (SAR), radio relays and electronic warfare (EW) equipment. The system can transmit video at distances of over 100 km.
During the demonstration flight, the UAS was equipped with a stabilized gimbal and broadcast video back to the observers, showcasing the suitability of the platform for missions in remote areas where real-time situational awareness must be provided quickly.
After the successful completion of the flight, the UAV operators also demonstrated the ease of disassembling and repacking the aircraft, which can be performed without the need for any tools. The man-portable system can also be unpacked and deployed in only 15 minutes, making it an ideal choice for missions requiring flexible operation and rapid response.
The demonstration was successful and Skyeton hopes to cooperate further with the attending units in the near future.