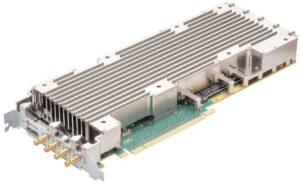 EIZO Rugged Solutions has launched a new rugged PCI Express (PCIe) graphics/GPGPU card designed for rugged rackmount servers and workstations in airborne and naval ISR (intelligence, surveillance and reconnaissance) platforms such as UAVs (unmanned aerial vehicles) and USVs (unmanned surface vehicles). The passively-cooled Condor GR4 PCIe card provides four 3G-SDI inputs and outputs and simultaneously captures, processes, encodes, decodes, displays, and streams video data.
The Condor GR4 is designed to host NVIDIA Pascal and Turing-based graphics processing units, supporting PCIe Gen 3.0 (16, 8, or 4 lane). Two variants are available, based on either the NVIDIA Quadro P5000 or P3000 GPUs, and an upgrade path is available to the latest NVIDIA Quadro RTX Turing GPUs. The card has been designed and tested to MIL-STD-810 harsh environment standards for temperatures, shock, and vibration.
The Condor enables direct video capture to GPU memory using GPUDirect RDMA for high-speed data transfer. In GPU memory, processing can be performed for applications such as image analysis, image enhancement, 360-degree video stitching, sensor fusion, and target detection, using GPGPU (CUDA / OpenCL), all with extremely low latency. The card also supports CUDA and OpenCL based GPGPU computing, AI processing (artificial intelligence), deep learning, and H265/H264 encoding/decoding.
Selwyn L. Henriques, president and CEO of EIZO Rugged Solutions, commented: "The Condor GR4 PCIe meets the needs of both manned and unmanned ISR platforms, where high definition video must be captured, processed, displayed, encoded, recorded and/or transmitted to base stations, all with exceptionally low latency and high accuracy."
"With 3G-SDI fast becoming the output of choice for developers of sensor pods and large gimbals featuring short wave, infrared, thermal, and optical cameras, we expect this one-card solution to tick all the boxes for our customers. The GR4 PCIe delivers exceptional MTBF (mean time between failure) performance – aided by passive cooling and fanless design – and its inherent modularity allows for GPU performance upgrades in the future. That's why this product has already been specified on several airborne platforms."