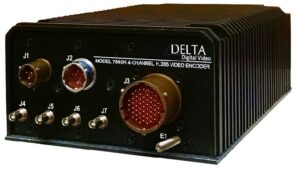 Delta Digital Video has launched a new addition to its family of rugged H.265 video encoders. The Model 7840R 4-Channel H.265 Video Encoder is an HD/SD video encoder that provides support for multi-channel applications and maintains the same size, weight, and power (SWaP) footprint of the company's existing dual-channel Model 7820R video encoder.
The Model 7840R encoder is designed for harsh environments in all domains and challenging applications such as UAVs (unmanned aerial vehicles), UGVs (unmanned ground vehicles) and USVs (unmanned surface vehicles). The flexible system simultaneously supports H.265 (HEVC) and H.264 (AVC), along with both HD/SD-SDI and composite video formats, and multiplexes video and audio signals with metadata and other system information for real-time video transmission.
The Model 7840R has been designed around an advanced, low-power multimedia architecture that can handle the computationally-intensive H.265 algorithm with ease as well as providing bandwidth efficiency for multi-channel applications. This increased efficiency allows for more channels to be transmitted over a given bandwidth, better-quality video for constrained bandwidth applications, or lower-bandwidth operation for enhanced ISR (intelligence, surveillance and reconnaissance) and drone flight test operations.
The new encoder is compliant with the full motion video standards developed by the US Government's Motion Imagery Standards Board (MISB), including compliance with the video compression, KLV metadata, and transport stream profiles required to ensure interoperability in US and allied processing, dissemination, and exploitation (PED) systems. The system is also qualified to full MIL-STD-810 environmental and MIL-STD-461/DO-160 EMI standards.
Find embedded computing solutions for unmanned applications >>