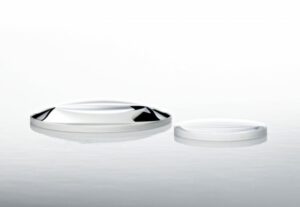 Knight Optical has announced that it has developed a new range of spherical sapphire lenses for rugged applications such as unmanned aerial vehicles (UAVs) and other autonomous vehicles.
Sapphire crystal (Al2O3) has high transmission from 150nm up to around 5µm, making it ideal for UV, Visible and IR applications. It has superb thermal, chemical and scratch resistance, and sapphire lenses have excellent mechanical strength and hardness. Sapphire is also inert and resistant to attack from most processing environments, such as hydrofluoric acid.
Knight Optical offers plano convex, biconvex and concave sapphire lenses, which can also be antireflective coated to increase efficiency in UV and IR applications. Available sapphire grades include Random, C-Cut, Z-Cut and fluorescence free sapphire.
Specifications of the spherical sapphire lenses include:
Material: Sapphire (Random grade)
Diameter: +0 / -0.10mm
Centring accuracy: < 5 arc min
Focal length: ± 2.0%
Centre thickness: ± 0.25mm
Surface quality: <60-40 scratch dig
Coating options: Extended broadband multilayer antireflective coating <0.5% @450-900nm
In addition to a range of stock sapphire lenses suitable for unmanned vehicle applications, Knight Optical also provides custom solutions to individual precise specifications.